Ingredients:
12 Lasagna noodles, cooked and cooled
Alfredo sauce (you can use jarred or use your own)
2 4 oz. cans of crab (Trader Joe's is really the best, or use fresh)
Thyme
Italian Seasoning
Salt and pepper
Parmesan
2 eggs
16 oz. small curd cottage cheese
First, (not pictured) drain the crab and sort through the meat to make sure there aren't any pieces of shell or other foreign objects.
Next, put the cottage cheese into a mixing bowl.
Add the two eggs.
Sprinkle in 1/4 cup or parmesan. I used the canned stuff but you can also use freshly grated.
Now add one tablespoon of Italian seasoning.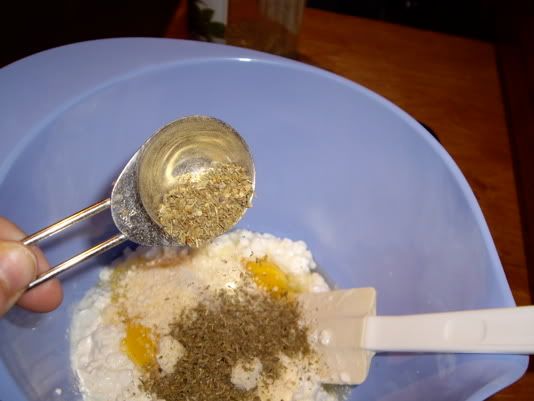 Next comes 1/2 teaspoon of thyme...
...and follow that with about 1/4 teaspoon (give or take) of garlic powder.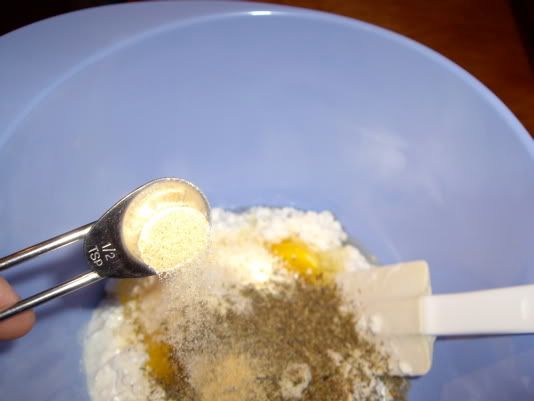 Add salt and pepper.
Then mix it all up until everything is incorporated.
Add the picked through crab.
Now stir that up until the crab is mixed in thoroughly.
Spray a 9x13 pan with cooking spray. Lay out a noodle, put about 1/4 cup of the crab mixture on the noodle, and roll it up. Lay it seam-side down in the pan.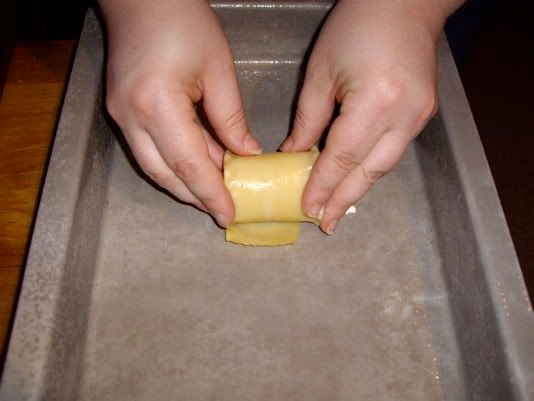 Keep going until you have a panful. You could probably make more to fit into this pan but I already had noodles cooked (I had frozen them) so I wasn't going to cook any more tonight.
If you have excess crab mixture you can sprinkle it on top.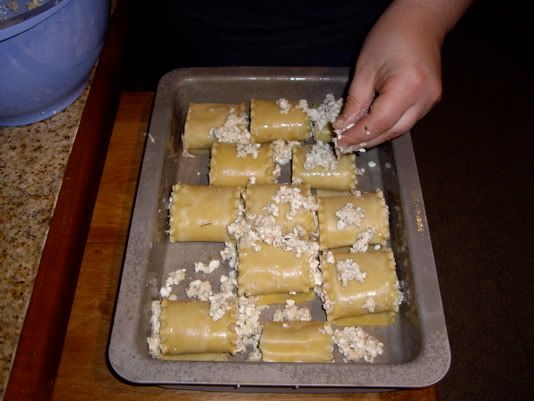 Now, pour the alfredo sauce onto the roll-ups, making sure to coat the tops of each one.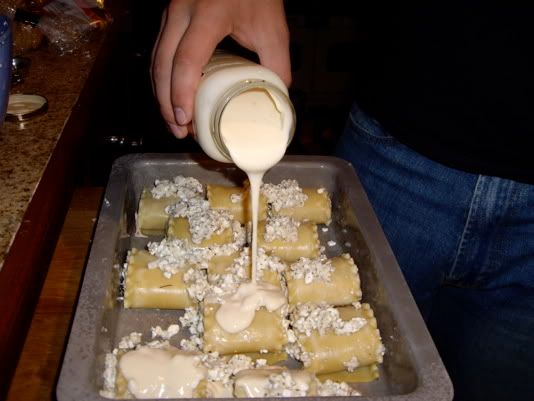 They look good, don't they? Too bad they have to cook...
Cover the pan with foil and make sure not to cut yourself! I did (my pinkie) and I was going to show you the photo but thought better of it. Anyway, put them into a 350 degree oven for 40-45 minutes.
Serve with a caesar salad and a roll or bread.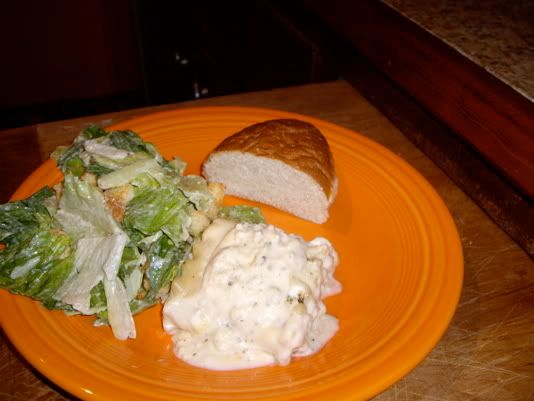 This was pretty good. I think next time I'll incorporate either provolone or mozzarella cheese into the mixture. I think it needed to be more gooey. The Italian seasoning was a tad bit too much so using a scant tablespoon would probably be a good idea. I liked the alfredo sauce with it; it made it rich and delicious!