This weekend as I was developing my meal plan I came across two recipes on allrecipes.com:
Tonkatsu Pork Chops
and
Soba Noodles with Toasted Sesame Seed Sauce.
So I decided to put these two together for a meal.
I'm not going to do the ingredient list since you can refer to the original recipes but I will say in lieu of broccoli florets and balsamic vinegar for the soba noodles I used red bell pepper and Chinese black vinegar. But I did take a photo of the ingredients! It was fairly involved...not difficult, per se, but involved.
Here is the dressing after the garlic was minced, the green onions sliced, and the other ingredients whisked together.
Boil the noodles for about 6 minutes then add the bell pepper for about 30 seconds or so. Put them into the bowl with the dressing. Then add the sesame seeds (I used toasted sesame seeds so I didn't have to toast them myself.)
Bonus pic of toddler, triumphant after adding the sesame seeds!
Toss everything together and make sure it's all incorporated.
Now, time for the pork chops. Whisk the egg mixture together with a fork.
Pour some panko crumbs into a container. (After this I was wondering why I didn't use panko all the time since they are delightful, crispy, and generally fantastic!)
Dip the pork chops into the egg mixture, then the panko, then the egg mixture, then the panko once more. Put them on a plate and let them rest for at least 10 minutes. I let these rest for probably close to 20 minutes.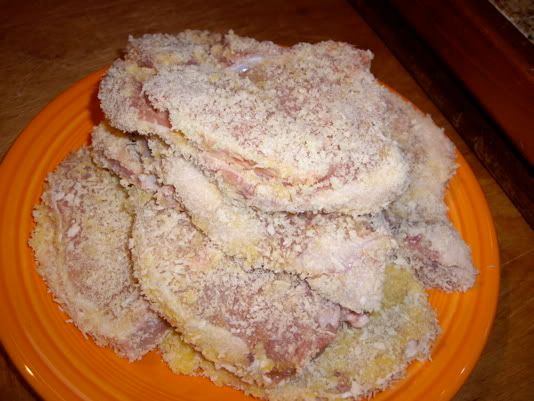 So, of course, it's time for a cocktail. I bought some of this Sierra Mist Free Cranberry Splash at the store and it is just absolutely perfect with vodka!
Ahem. So, time to fry. And, really, one needs a cocktail if one is going to be slaving over a hot stove frying for a good portion of the evening...
Five minutes on each side...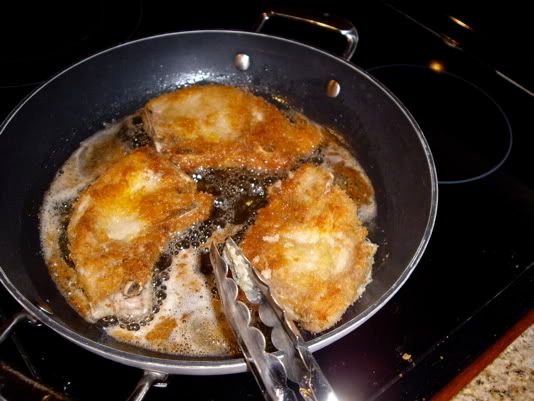 ...and then they are ready to serve! I put some Mae Ploy Sweet Chilli Sauce on the side for the pork chops. I cannot say enough good things about Mae Ploy. This stuff is fantastic with lumpia and it is also amazing with these pork chops. The texture on the panko-breaded pork chops is amazing. Trust me!