My dad has legendary ribs. Seriously, they are the best ribs I have ever eaten. Before he gave me the recipe I used to beg him to make them for any special occasion. This is the second or third time I have made them on my own and I finally feel like I have mastered the recipe.
I bought some unmarked (as to type) ribs at the Grocery Outlet yesterday for $20. When I opened the package today I was pleased to find not two, as I suspected, but three racks of untrimmed spare ribs. I was in heaven! Only on two racks was there a membrane to remove on the underside. It's important to do this.
First, I made my dad's rub. It has pepper, chili powder, garlic, seasoning salt, and cayenne in it.
The middle kid took a couple of pictures for me while I rubbed the seasonings on the ribs.
Here they are, rubbed on both sides, in all of their glory:
Put them on a rack on a cookie sheet and cover tightly with aluminum foil. Let them cook for four hours in a 250-degree oven.
During the last 45 minutes or so you will want to make the sauce. Start with some chili powder and salt in a pot.
Then dice up some onion fairly finely. You'll need about 2 cups of it.
Now, pour the strong coffee and Worcestershire sauce into the pot.
Next comes the apple cider vinegar and Jack Daniel whiskey.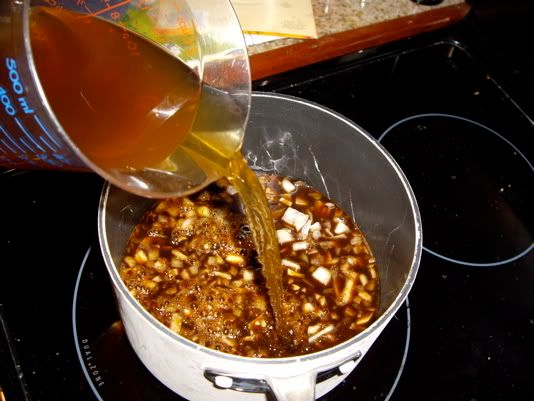 Mince up lots of garlic for the sauce.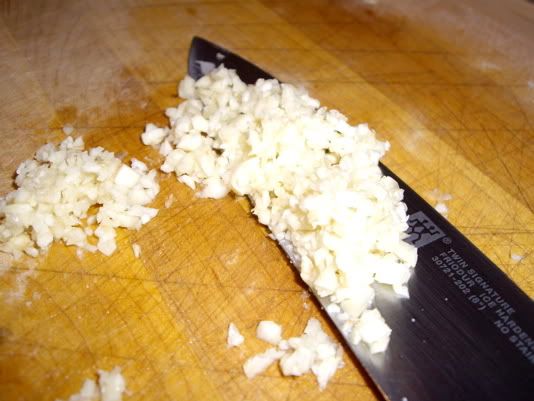 Add some brown sugar to the pot.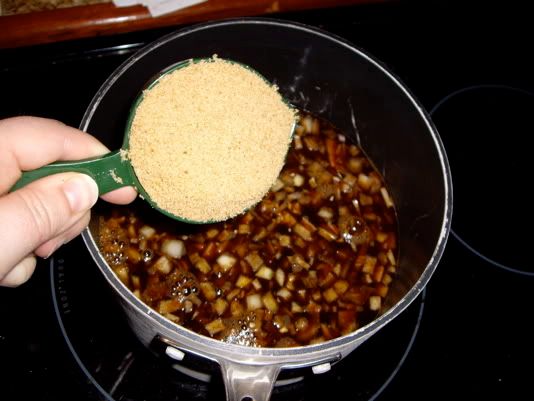 You can also put in some honey. I did. You can now either use chiles, diced, or one chipotle chile, diced finely.
Bring it to a boil and then let it simmer for about a half hour or so, until it's reduced.
You don't have to, but it's great to blend the sauce so it's a smoother consistency.
Get the ribs out of the oven. Sweet heaven, these look amazing already!
Get those babies on the grill!
Put sauce on one side, let it cook for about 8 minutes or so, flip them over, put the rest of the sauce on them, and let them cook for another 8 minutes.
This, my friends, is beauty and all that is good in the world.
Here is my and my parents' gift to you. The recipe:
BBQ Sauce
1⁄2 cup Jack Daniels
1 cup strong black coffee
1 cup Worcestershire sauce
1⁄2 cup brown sugar
2 cups onions, chopped
1⁄4 cup minced hot peppers or 1⁄2 chipotle chile, minced
6 cloves of garlic, minced
1⁄2 cup cider vinegar
1 cup ketchup
3 Tbsp chili powder
2 tsp. salt
Sauté the onions until soft in a medium saucepan. Add the garlic and stir until fragrant, about 30 seconds. Add the remainder of the ingredients. Simmer for about an hour. You can puree either before or after the cooking.
Rub
2 Tbsp. coarse black pepper
2 Tbsp. seasoning salt
2 Tbsp. mild chili powder
1 1⁄2 tsp. dried minced garlic
1⁄2 tsp. cayenne (or to taste)
Combine and rub on the ribs.
Preheat oven to 250 degrees. Put ribs on a rack on a cookie sheet. Cover w/ aluminum foil and cook for 3 1⁄2 to 4 hours.
Brush the sauce on and broil or BBQ.