My dad got this recipe from somewhere...perhaps the back of a box of taquitos. Anyway, it's a great recipe and lately I've made it a few times.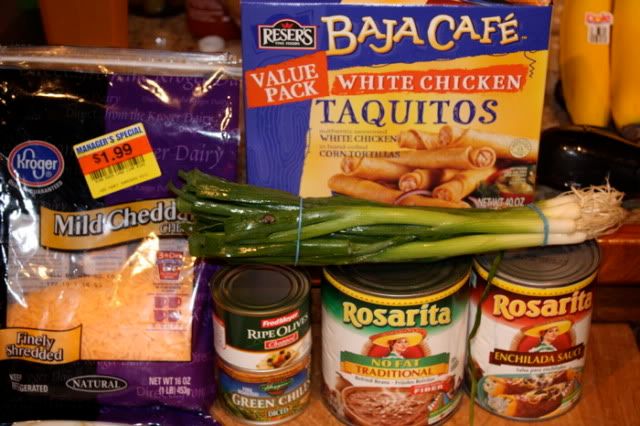 Ingredients:
1 box of
unthawed
taquitos (you need about 30)
28 oz can refried beans
20 oz can enchilada sauce
4 oz can chopped olives
4 oz can chopped green chiles
1 bunch green onions, chopped
2 cups of shredded cheese
Preheat your oven to 400 degrees.
First, chop the green onions. Use the white and green parts. I love this photo. I love green onions! Hey, win-win!
Put the refried beans, green onions, olives, and green chiles into a microwave-safe bowl. Stir everything up so it's all happy together. Microwave for about 3-4 minutes, stirring halfway through.
Meanwhile, spray a 9x13 casserole pan with nonstick cooking spray. Lay down some taquitos.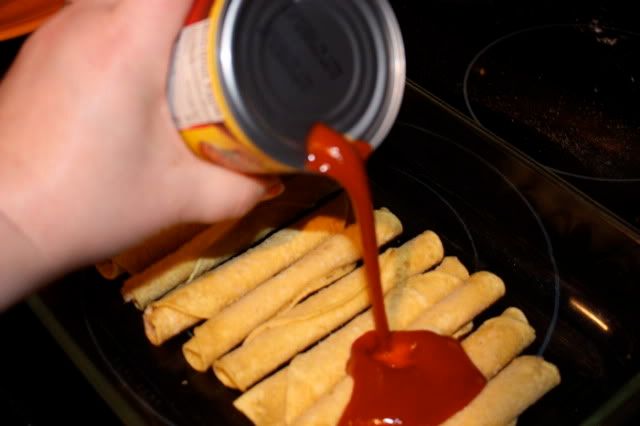 Drizzle about half of the enchilada sauce over the taquitos.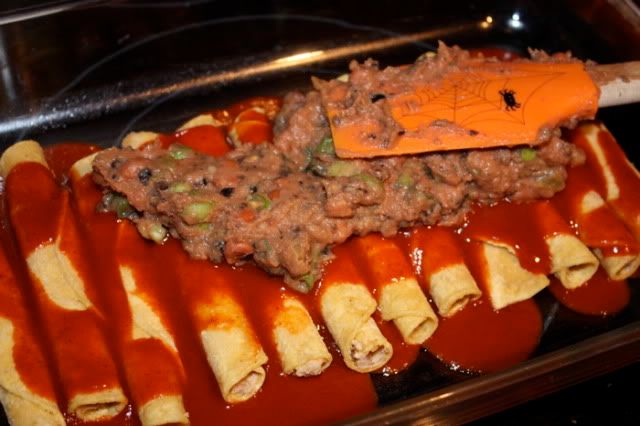 Put half of the refried bean mixture over the taquitos.
Spread half of the cheese over the refried beans.
Repeat layers! Cover with foil and cook for about 50-60 minutes, or until hot. Cover with remaining cheese and put back into the oven until the cheese is melted.
This is pure comfort food. It's like enchiladas without all that pesky rolling! Add salsa, sour cream, and guacamole for a religious experience.
Taquito casserole is so great. Aside from the cooking, it really doesn't take much active time at all. You can use the taquitos that are corn or flour tortillas. I like both.
And now my stomach is grumbling. Maybe there are some leftovers still left in the refrigerator...