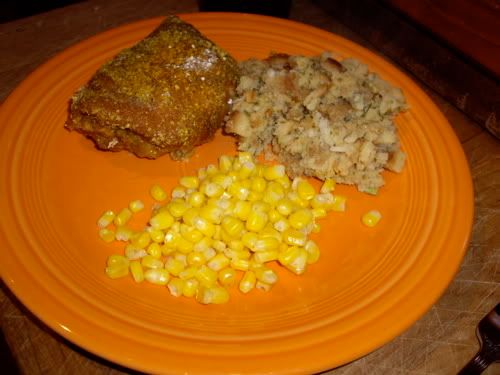 Crumb-Coated Chicken Thighs, Stove Top Stuffing, and corn.
I used matzo meal instead of bread crumbs and this was fantastic. Here is the recipe as from allrecipes.com:
Crumb-Coated Chicken Thighs
INGREDIENTS
* 1/4 cup dry bread crumbs
* 1 teaspoon salt
* 1 teaspoon ground cumin
* 1 teaspoon paprika
* 1 teaspoon chili powder
* 1 teaspoon curry powder
* 1/4 teaspoon pepper
* 8 (5 ounce) chicken thighs, skin removed
DIRECTIONS
1. In a large resealable plastic bag, combine the first seven ingredients. Add chicken, a few pieces at a time, and shake to coat. Place on a baking sheet coated with nonstick cooking spray. Bake, uncovered, at 400 degrees F for 20 minutes. Turn chicken pieces; bake 15-20 minutes longer or until a meat thermometer reads 180 degrees F.
I used about triple the crumbs, half the cumin (personal taste), half the paprika (because I have intense smoky paprika and not the McCormick's stuff - not that there's anything wrong with that), and then 7 chicken thighs with skin on. This was a definite success and I'll be making it again. I've been really pleased with my chicken lately!