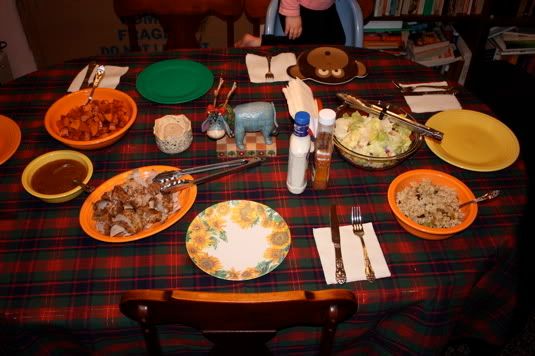 I decided to do a traditional Sunday dinner here at our house tonight. We had pork tenderloin with gravy, roasted sweet potatoes, brown rice with raisins, and salad.
The pork tenderloin was done in the slow cooker. I found the recipe at
about.com: Southern Food.
Here is the recipe:
Honey Mustard Pork Tenderloin
Prep Time: 10 minutes
Cook Time: 7 hours
Ingredients:
* 2 pork tenderloins, about 1 pound each
* salt and pepper
* 1 small clove garlic, minced
* 4 tablespoons grainy Dijon mustard or country-style
* 2 tablespoons honey
* 2 tablespoons brown sugar
* 1 tablespoon cider vinegar or balsamic vinegar
* 1/2 teaspoon dried leaf thyme, crumbled
* 1 tablespoon cornstarch
* 1 tablespoon cold water
Preparation:
Wash and trim the pork and pat dry; sprinkle lightly with salt and pepper. Place pork in the slow cooker. Combine garlic, mustard, honey, brown sugar, vinegar, and thyme; pour over the pork. Turn pork to coat thoroughly. Cover and cook on LOW for 7 to 9 hours, or on HIGH for 3 1/2 to 4 1/2 hours.
Remove pork to a plate, cover with foil, and keep warm. Pour the juices into a saucepan and bring to a boil over medium heat. Simmer for 8 to 10 minutes, or until reduced by about one-third. Combine the cornstarch and cold water; whisk into the reduced juices and cook for 1 minute longer. Serve pork sliced with the thickened juices.
Serves 6
Ingredients:
Sprinkle salt and pepper on the pork tenderloins.
Then, lay them in the slow cooker that has been sprayed with nonstick cooking spray.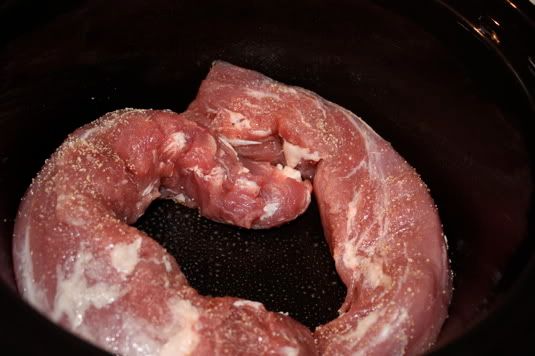 Now it's time to mix the ingredients for the sauce. Start with a bit of garlic.
Next, add the brown sugar.
I chose some grainy mustard for this dish. If you don't have any you could definitely substitute dijon.
I also chose apple cider vinegar for this even though I did have balsamic. I just thought the apple cider vinegar would go better with this particular recipe.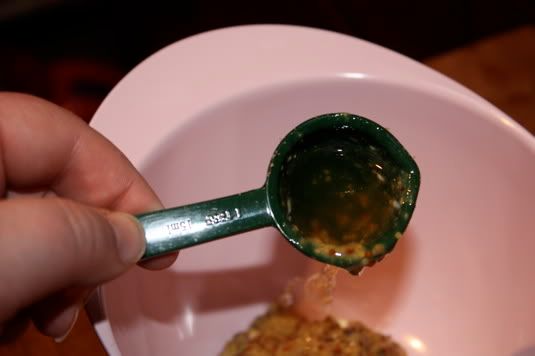 Now it is time for the honey.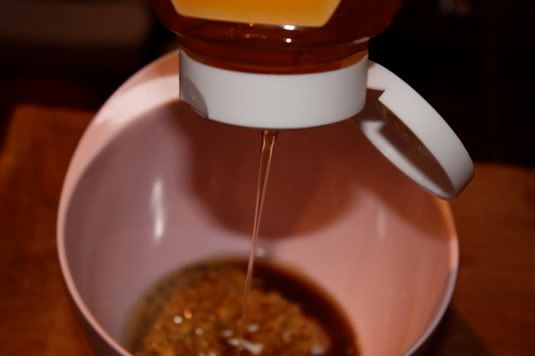 Finally, add the thyme.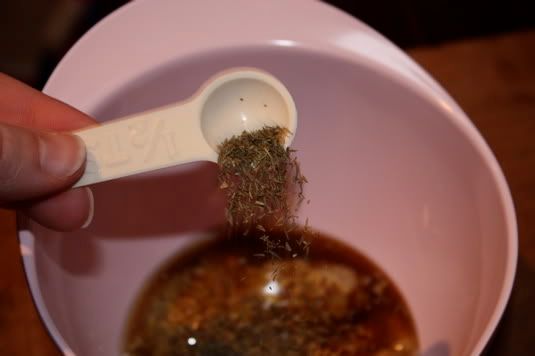 Whisk the sauce ingredients together.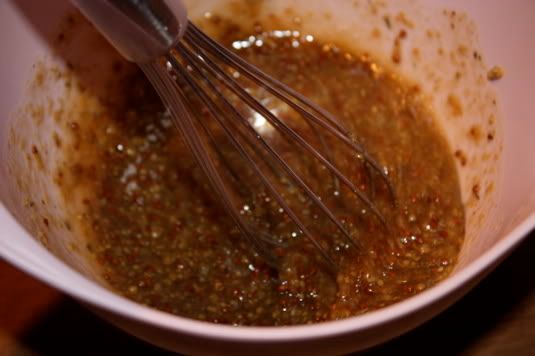 Pour the sauce over the tenderloins.
You'll want to get your hands messy with this next step because the best thing is to turn and coat the tenderloins with the sauce. Then you put the lid on, turn it to low, and let it cook for 7 hours.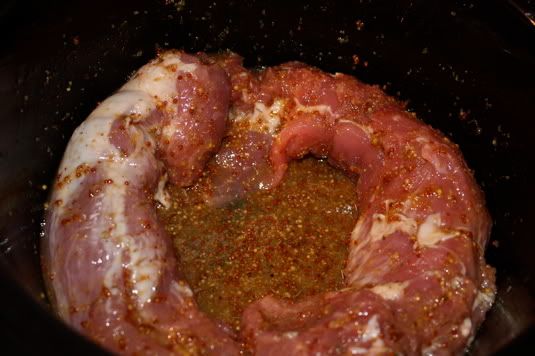 After 7 hours have gone by, take it out and let it rest while you make the gravy. Pour the juice into a sauce pan. Add 1 tablespoon cornstarch and 1 tablespoon water into a glass. Mix it up well with a fork and pour it into the gravy. Let the gravy come to a boil for a couple of minutes or until thickened.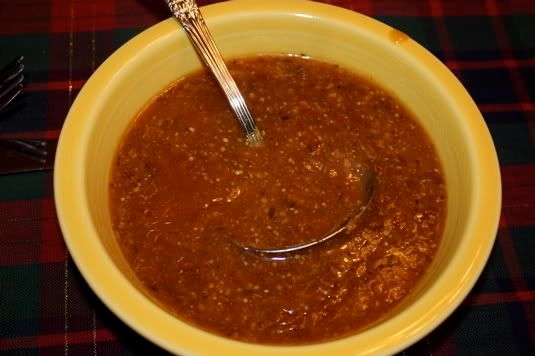 Here is the pork after it has cooked. My only complaint is that it turned out stringy (but tender!) and wasn't easy to cut into medallions.
While the pork is cooking, make the roasted potatoes. Here is the recipe:
Roasted Sweet Potatoes with Honey
Serves: 6 servings
4 sweet potatoes, peeled and cut into 1-inch cubes
1/4 cup extra-virgin olive oil
1/4 cup honey
1 teaspoons ground cinnamon
Salt and freshly ground black pepper
Preheat oven to 375 degrees F.
Put the sweet potatoes into a large bowl. Drizzle the oil, honey, cinnamon, salt and pepper over the potatoes. Roast for 40 minutes in oven or until tender.
Take sweet potatoes out of the oven and transfer them to a serving platter.
Here are the ingredients:
Chop up the sweet potatoes into roughly the same size cubes.
Put them into a bowl and then drizzle with olive oil.
Follow with the honey (remember my tip of measuring out oil before honey?).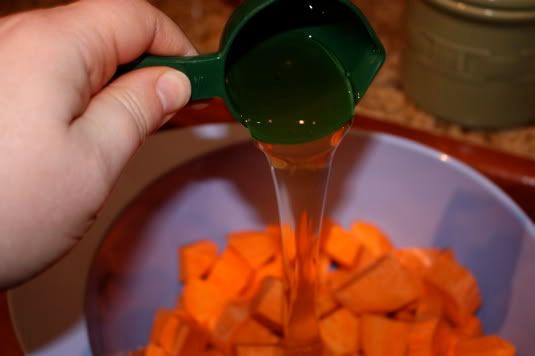 Sprinkle with a teaspoon of cinnamon.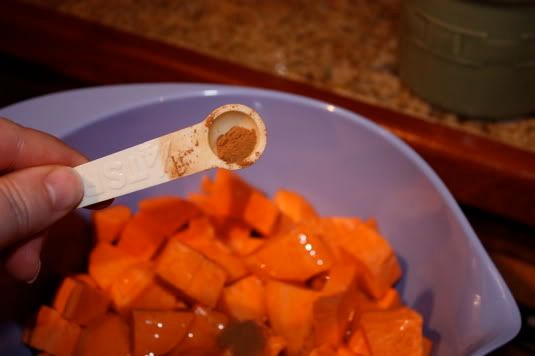 Sprinkle with salt and pepper.
Now, transfer to a cookie sheet and make sure they are in a single layer.
Roast them for about 40 minutes, or until they're tender.
Now it's time for the brown rice salad. This was a delicious and kid-friendly way to have brown rice. Here is the recipe:
Savory Brown Rice and Raisins
Ingredients
1 1/2 cup brown rice
1 tablespoon olive oil
1/2 onion, chopped
1/4 cup raisins
1/4 cup golden raisins
1/4 cup sliced green onion
1/4 cup water
salt and pepper to taste
Directions:
Cook rice according to package directions.
Heat olive oil in skillet over medium-high heat.
Add onion and cook stirring occasionally until onion is golden brown, about 5 minutes.
Stir in raisins, green onion and water.
Reduce heat to low.
Cover and cook 5 minutes or until raisins are plump.
Stir in cooked rice.
Season with salt and pepper to taste.
Makes 6 servings.
I didn't take an ingredients photo of this. Start by sautéing the onion.
Add the raisins and green onion. Also add 1/4 cup water, turn the heat to low, and cook for a few minutes.
Add the brown rice to the skillet. Add salt and pepper and warm the ingredients.
After this you have a great brown rice salad.
And you also have a delicious dinner!