This is my first Mark Bittman recipe and, let me tell you, I was excited to try it. I got the recipe from
Bittman's blog on the New York Times website.
Ingredients:
Salmon fillets (recipe calls for 4 steaks but this is what was gotten out from the freezer)
Pinot Noir
Sugar
Rosemary
Balsamic Vinegar
Butter
Salt and Pepper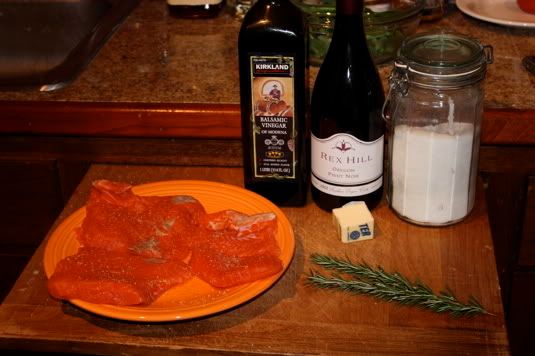 Put 1/2 cup sugar in a pan. Heat the oven to 450 degrees so it's ready to go.
Bittman says not to worry too much about stirring; just shake it up every now and then. Look, it's halfway there!
Now it's ready.
Pour 2 cups of Pinot Noir into the pan verrrrrry carefully and very slowly. Then heat the sauce up so the sugar dissolves again.
After the sugar has dissolved, add the rosemary sprig.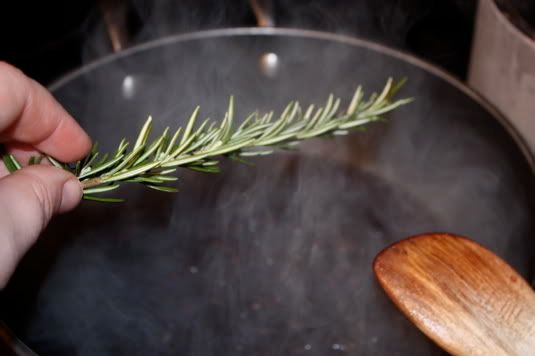 Boil the sauce over high heat until it reduces to about 1/2 cup.
Meanwhile, put a little olive oil in a pan and heat it up. After it's hot, place the salmon in the pan and immediately put it in the oven.
After three minutes, take it out of the oven and turn it over. Then put it back in the oven for three more minutes, or until it is done to your liking (Bittman says he likes his medium rare).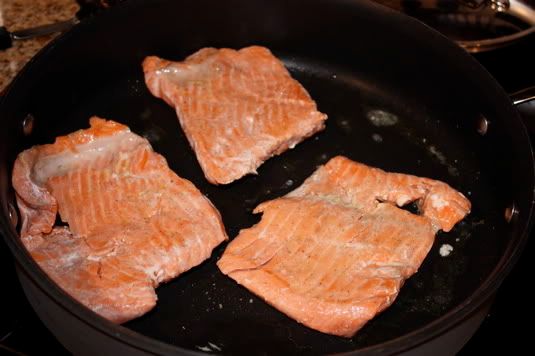 After the sauce has reduced, place the butter and balsamic vinegar in the pot. Stir until the butter has melted.
Put the salmon on the plate and spoon the sauce over the fish. I served it with green beans and pappardelle that was tossed with a tablespoon of butter and some freshly grated parmesan.
This
was
delicious!
Seriously, it was candy for adults (and kids, too). We all loved it! The preschooler even ate a bit (but not much because she's not a big dinner eater). I will definitely make this again and I think it'd be delicious over pork. Mr. Mary Cooks thinks it would be good on lamb as well!