Have you ever had a bad day where nothing really horrible or out of the ordinary happened but it was just not good nonetheless? I had one of those days today. I didn't feel good enough for what I was doing. I felt devalued as a person. Well, when I feel that way I usually end up in the kitchen. Sometimes, like tonight, it is for a good purpose. I asked the teenager to get chicken breasts out of the freezer but I hadn't a clue what to do with them. So, I improvised.
Ingredients:
4 boneless, skinless chicken breasts
1 red bell pepper
1 summer squash
1 14.5 oz. can tomatoes with onions, garlic, oregano
red wine
1 tube of polenta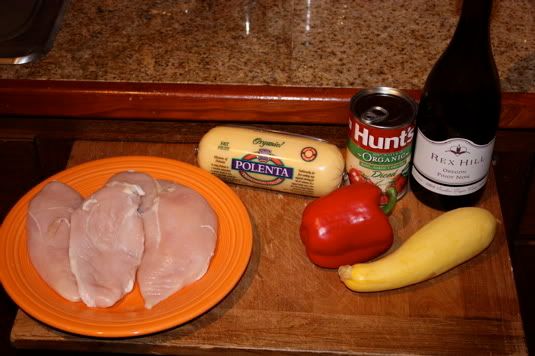 First, you'll need to chop vegetables and chicken. Remember to chop up your vegetables and other items first so you can save your chicken for last. I chopped the bell pepper into strips and then cut the strips into halves.
Then I halved the squash and then sliced it.
Slice the polenta into 3/4" slices. Spray a cookie sheet with nonstick cooking spray and then lay the slices on the sheet. Preheat the broiler in your oven.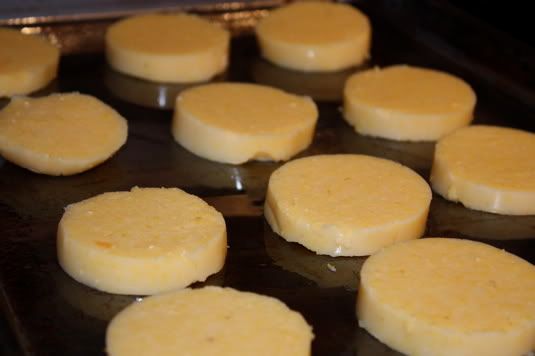 Finally, chop the chicken into about 1-inch chunks.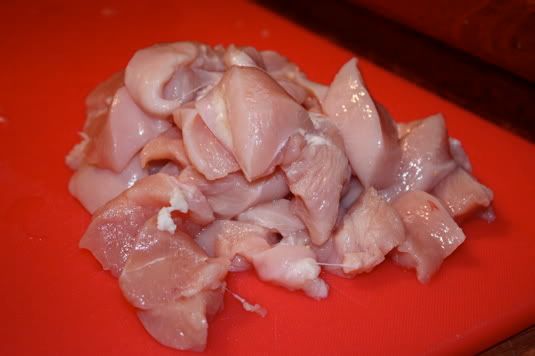 Heat a nonstick skillet that has been sprayed with cooking spray over medium high heat. While you're waiting for it to heat up, go ahead and pour yourself some wine. This was a great wine and I'm sad to see it go. I normally don't go out of my way for Pinot Noirs but if I see this one in the store I'll probably buy it. (This one was a gift, I believe.)
After the skillet is hot, put the chicken in. Sprinkle it with some pepper. I use white pepper but it's a matter of personal taste.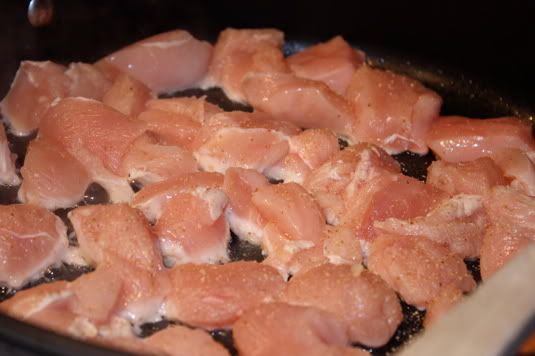 After the chicken has mostly cooked (this will take about 8-10 minutes), pour about 1/4 cup wine into the skillet. Stir to incorporate.
Add the can of tomatoes to the chicken. Again, stir it up.
Let it simmer for about five minutes so the flavors mingle and the sauce reduces just a bit.
Add the squash and red pepper into the skillet. Stir to combine and let simmer.
Meanwhile, put the polenta slices under the broiler.
After about 8 minutes, pull them out and flip them over. Yours may take less time to brown so just watch them.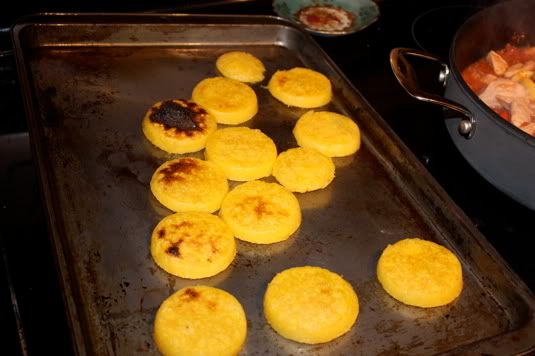 After you've flipped them over, let them hang out under the broiler for about 3 or 4 more minutes. Then take them out for plating. Lay a couple of polenta slices on the plate and spoon some of the chicken and vegetable mixture over it.
This was delicious! I am really pleased with how this turned out for a night when I had to "wing" what I made for dinner. All the kids (except my picky preschooler -
how
did I get a picky eater??) loved it.