I made an informal resolution recently to begin cooking dishes that I hadn't before. I want to stretch myself and try new things. I decided to try a risotto. Inspired by the Asian grocery and their inexpensive produce I opted for a mushroom risotto. I bought three types of mushrooms: portobello, oyster, and shiitake mushrooms. I think I got all of these for about $6. Not bad, eh?
I searched the internet for mushroom risotto recipes. I read a lot of them until I settled on one that looked simple yet that would probably taste delicious. I found one on
allrecipes.com
that fit the bill.
Gourmet Mushroom Risotto
Submitted By: MYLEEN
Prep Time: 20 Minutes Cook Time: 30 Minutes
Ready In: 50 Minutes
Servings: 6
"This authentic Italian-style risotto is cooked the slow, painful way, but it's oh so worth it. It's the perfect complement for grilled meats and chicken dishes."
Ingredients:
6 cups chicken broth, divided
3 tablespoons olive oil, divided
1 pound portobello mushrooms, thinly sliced
1 pound white mushrooms, thinly sliced
2 shallots, diced
1 1/2 cups Arborio rice
1/2 cup dry white wine
sea salt to taste
freshly ground black pepper to taste
3 tablespoons finely chopped chives
4 tablespoons butter
1/3 cup freshly grated Parmesan cheese
Directions:
1. In a saucepan, warm the broth over low heat.
2. Warm 2 tablespoons olive oil in a large saucepan over medium-high heat. Stir in the mushrooms, and cook until soft, about 3 minutes. Remove mushrooms and their liquid, and set aside.
3. Add 1 tablespoon olive oil to skillet, and stir in the shallots. Cook 1 minute. Add rice, stirring to coat with oil, about 2 minutes. When the rice has taken on a pale, golden color, pour in wine, stirring constantly until the wine is fully absorbed. Add 1/2 cup broth to the rice, and stir until the broth is absorbed. Continue adding broth 1/2 cup at a time, stirring continuously, until the liquid is absorbed and the rice is al dente, about 15 to 20 minutes.
4. Remove from heat, and stir in mushrooms with their liquid, butter, chives, and parmesan. Season with salt and pepper to taste.
Ingredients (there are a lot!!)
Arborio rice (Trader Joe's is a very good resource for this)
Onion
Chives
Mushrooms (any combination you like)
Dry white wine
Olive oil
Pepper
Salt
Butter
Parmesan
Stock (not pictured below)
I started heating up some homemade turkey stock. You do not want it to boil but you do want it to be hot.
Slice up your mushrooms. I actually think I had a bit too many mushrooms here.
Dice up about half an onion very finely. I read somewhere that you want the pieces to be about as small as the nail on your pinky finger.
Chop up the chives for later. Honestly, I found most of the work with the risotto was all the chopping and prepping before you're ready to rock and roll with the cooking.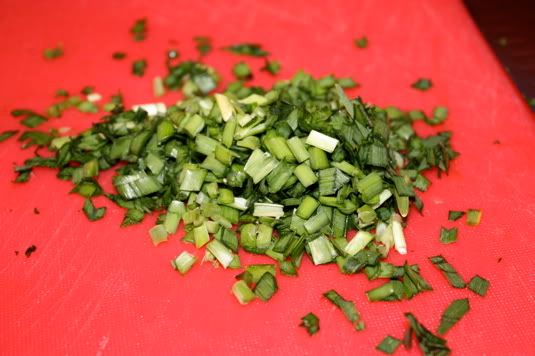 Shred up the parmesan.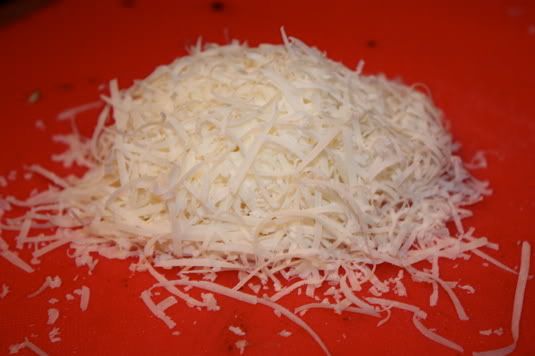 Now you're ready. Heat up some olive oil in a pan. I picked this pan because it seemed like it would be the easiest to cook the risotto in.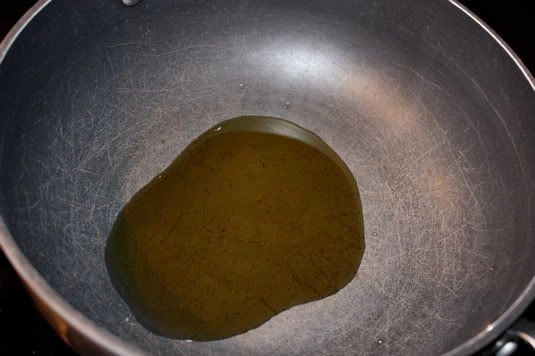 Add the mushrooms so you can sauté them.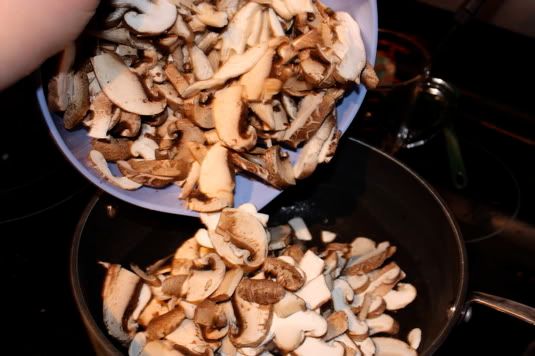 Heat them up until they're nice and soft. Then remove them to a bowl and let them stand until the end.
Put a bit more olive oil in the pan and then put the onions in. Sauté them until they are nice and soft but not browned.
Stir often and keep your eyes on them.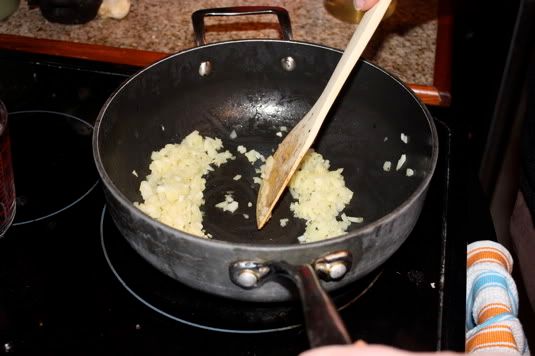 When they have gotten soft, add the rice.
Stir the rice for about three or four minutes until the grains are coated with oil. After that, add the white wine.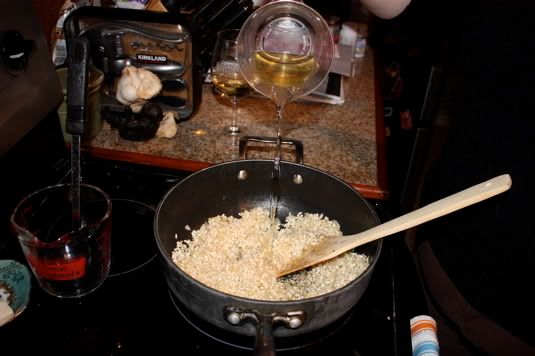 Stir the rice until the wine is absorbed into the rice. Once it is, add about a half cup of hot stock. My ladle is just shy of 1/2 cup so I have to add about a ladle and a quarter at a time.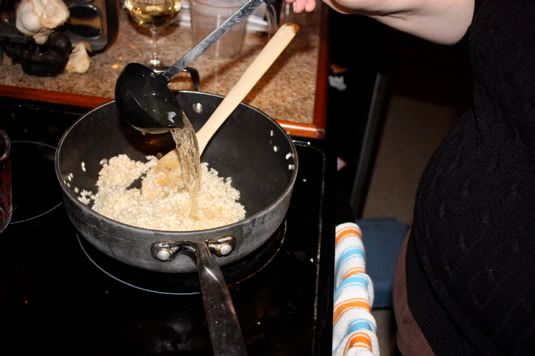 Stir the rice around so it absorbs the stock.
Stir stir stir until the stock is absorbed prior to adding more stock.
Add more stock and stir. The theme with risotto? Stir. Stir until your hand falls off.
Great! It's absorbed and you've used about 6 cups of stock! Keep trying the rice the closer you get to it being done. You don't want to go over the line to mushy rice!
Awesome. We're all set. The last of the stock is absorbed, the rice is al dente. Remove the pan from the heat and put the butter in.
Stir that until it is all melted and integrated into the rice. Now it is time to add the shredded parmesan.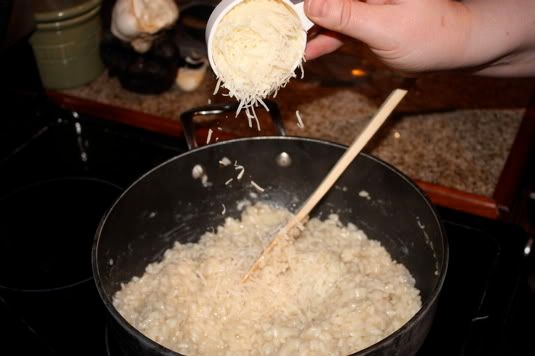 Remember your mushrooms? Add those back into the pot.
More stirring.
Finally, add some chives.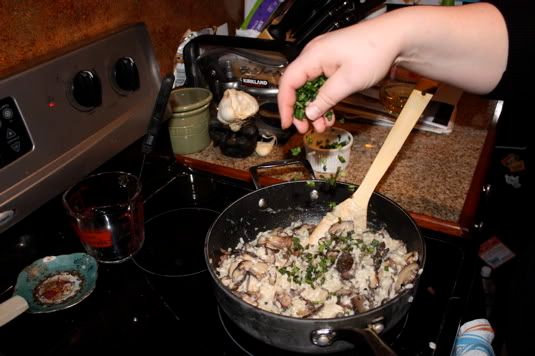 Taste. Season with salt (I used sea salt but you could also use kosher salt) and pepper. Serve and enjoy!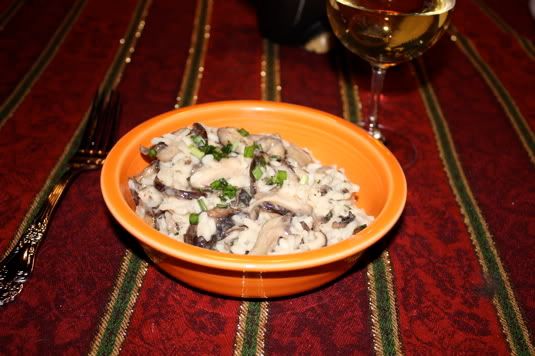 So, what's the verdict? I am glad I made it. It is very labor intensive and don't let anyone tell you otherwise. It is delicious so the labor is worth it. It's sort of like making fudge with all the stirring. Still, I will make this again. Like I said, I think I had too many mushrooms. It was VERY mushroomy. It needed a milder flavor.
The family enjoyed it, though!