Grocery Outlet
wines again tonight. In case you're wondering why I was given this opportunity and why GO is ramping up their wine presence online, it's because they're going to be having a
fantastic
sale March 30-April 3. 20% off all wines! This is a great event and there will be some terrific bargains to be had so do not miss it!
Tonight's first wine was a
2007 Sylvester Vineyards & Winery Rosé.
Front of the bottle: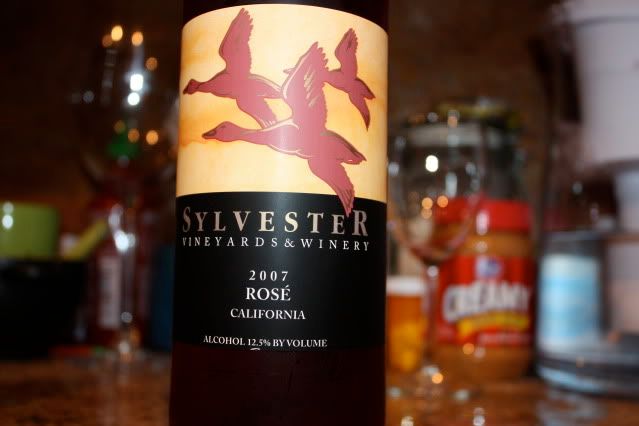 Back of the bottle:
I bought this with the gift card given to me by GO for $3.99. Their sign said elsewhere it was $8.99.
When I opened this and poured it in my glass the first thing I smelled was vinegar. This did not bode well. It's dry and Mr Mary Cooks claimed it tasted like "Kool-Aid rainwater." (Hey, I couldn't make that up by myself!) There's an unpleasant aftertaste with a sourness that's almost lemony. The text on the back label matches the flavor and character of the wine: vague and nondescript. I would have felt obligated to finish the bottle but since I didn't pay for it, I didn't.
However, we did figure out a good use for it: it'd be a decent sangria wine. It also makes a good wine spritzer if you add lemon-lime soda. Just sayin'...
We drank it with salmon that was still great after being in the freezer for a year and a half. This is salmon that we caught ourselves in Ketchikan, Alaska. I was overjoyed that not only was it still good but it was delicious! Are you ready for the food interlude?
Ingredients:
4 4 oz. salmon fillets
2 Tbsp. canola oil
4 Tbsp. rice vinegar
4 Tbsp. soy sauce
2 Tbsp. brown sugar
4 cloves of garlic, minced
2 tsp. freshly ground black pepper
1/4 c. finely minced onion
2 Tbsp. sesame oil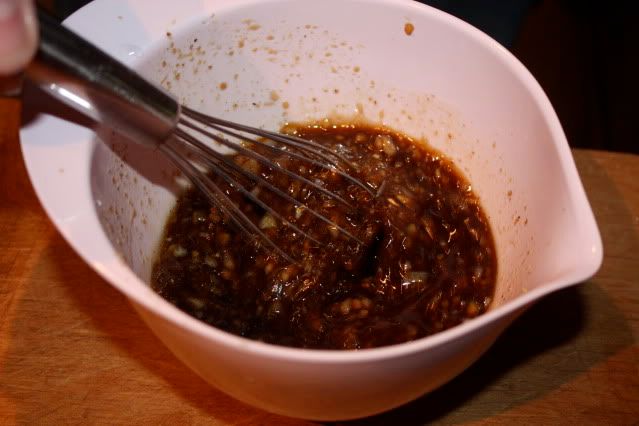 Mix all of the ingredients together in a small bowl.
Pour over the salmon fillets.
Let them marinade for 30 minutes.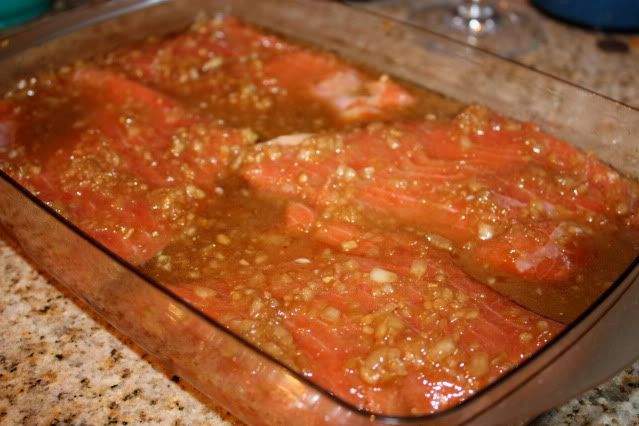 Flip 'em over and let them go for another 30 minutes.
Put them in a pan and cook them in a 350 degree oven for 20 minutes. Then, broil them for about 5 minutes or so.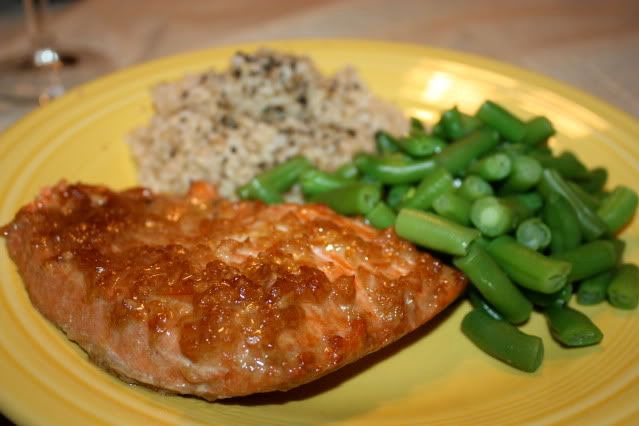 Ahhhh... I live a tough life, don't I?!
Okay, back to the wine. After the dismal performance of the rosé (and I truly was disappointed because I love a good rosé!) I decided to open a 2008
Le Baron Ranch
Late Harvest Riesling.
Front of the bottle: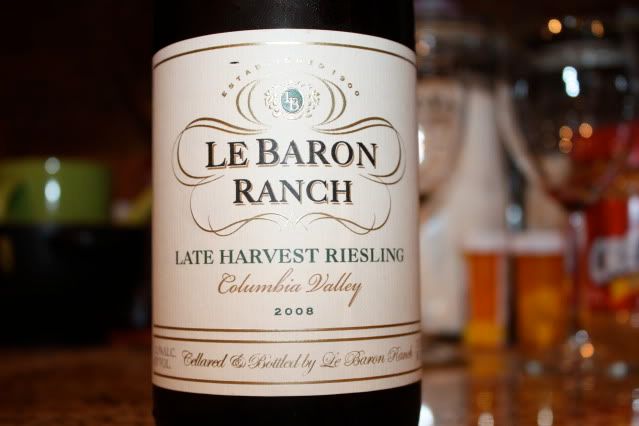 Back of the bottle: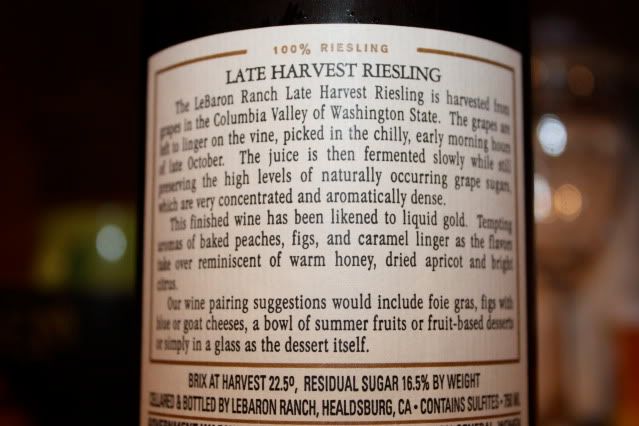 What
A
Godsend!
Apple and apricot on the nose. It was only lightly syrupy but very, very sweet. It would make an excellent dessert wine. It was such a treat, literally candy for adults! There were pear and apricot notes with a peach aftertaste. It was almost effervescent on the tongue when it touched. It finished clean on the palate. I knew it might yield a nasty hangover in the morning (due to the sugar content) but I didn't care! The bottle was completely consumed, mostly by me. There was a bit of a starfruit note as it warmed. I loved, loved, loved this wine. If I could drink it every day I would do it.
It was $10.99 at Grocery Outlet, elsewhere $44.99. Honestly, for a Late Harvest that might be a wee bit inflated (I'd believe it more for an ice wine) but no matter. It was definitely worth the eleven bucks. I am going to head back to GO for more! You should, too, if you know what's good for you.