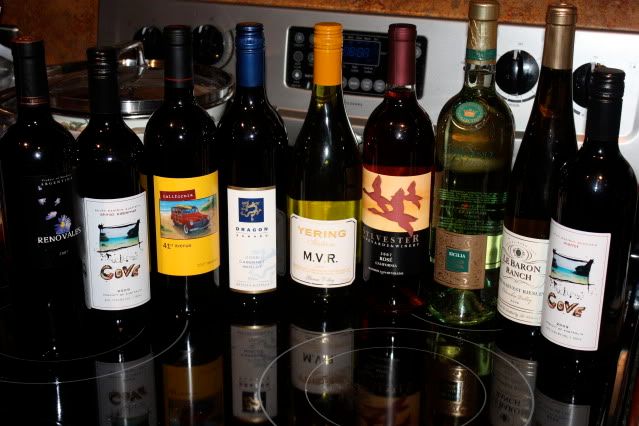 Can you believe I bought all 9 of these bottles from Grocery Outlet for $50? Okay...I fib just a little...I went over by $1. ;-)
Grocery Outlet
gave me a $50 gift card with which to buy wine and review it here on my blog. Sweet! The first wine I am reviewing is a 2007 Renovales Malbec. I have been trying to research this on the internet but have come up with nothing. My Google-Fu is failing me! I bought this at Grocery Outlet for $4.99 and their price tag said to compare it to $9.99 in other stores.
Front of the bottle:
Back of the bottle: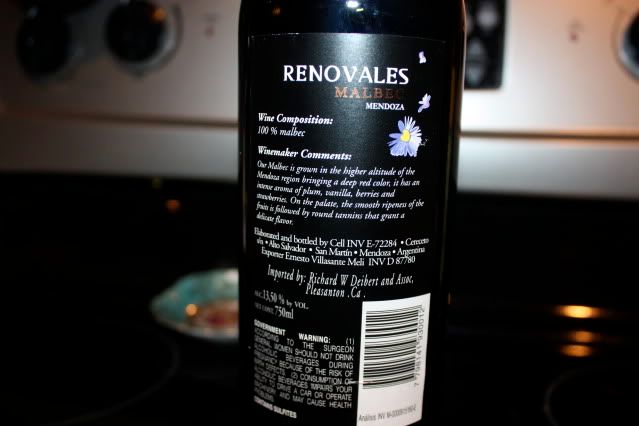 I do know that Mendoza is a good place for Malbecs.
I have a soft spot in my heart for Malbecs so that's why I decided to start with this one.
I poured it in my glass and let it breathe for a little bit. It looked beautiful and dark.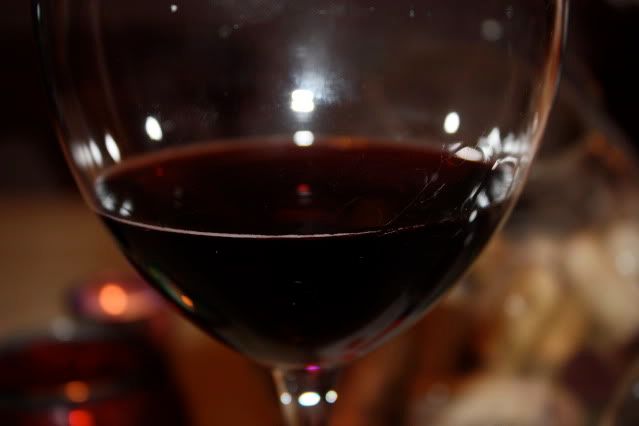 At first there was an oaky taste to it but that dissipated the more it breathed. Also at first there was a bit of a dull pomegranate taste to it and Mr Mary Cooks swears there was a ruby red grapefruit taste to it (I didn't get that at all). The tannins are very tame which makes this wine very approachable for someone who maybe has not had a lot of experience with red wines. This wine would be awesome with a creamy cheese like perhaps a chevre or even a stilton. I can imagine eating a salad comprised of arugula, rocket, pear, walnuts, and chevre while sipping on this wine.
Instead, we had bacon-wrapped filet mignon (which will make another appearance later this week) and twice-baked potatoes.
This was a Christmas present from family of Mr Mary Cooks so it made this meal very economical!
Anyway, back to the wine. It's much better when consumed with food. We drank the whole bottle so it definitely passed the test as it took very little effort to drink it all. It was mildly fruity and I bet it would age pretty well for another year.
The only negative thing I can say about this wine is that there was an odd sedimentation in the first pour which was strange because it had been sitting upright for two days prior to opening it.
I would definitely buy this wine again. It was delicious and for 5 bucks, an incredible deal!
-----------
Stay tuned later this week for an announcement! Grocery Outlet has given me a $50 gift card to give away here on the blog! There are some stipulations (you have to have a blog and post what you bought with it) which I will list tomorrow. I'll start accepting entries to the giveaway on Wednesday and announce the winner on Friday evening. Hooray!!!