I'm a bit late on this entry as well. Came home from work and napped for a few hours. My immune system seems hellbent on catching a cold! Boo!
It's not going to stop me from posting about this fantastic wine, though!!
Front of the bottle: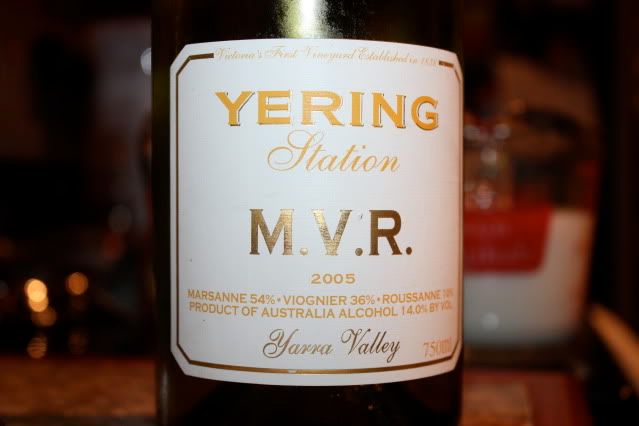 Back of the bottle:
2005 Yering Station MVR
!
To say that I was looking forward to this wine is a vast understatement. The second I put it in my cart at
Grocery Outlet
(a bargain at $5.99! Elsewhere it's $18.99) I knew I'd want to drink and drink and drink it. This wine is comprised of 54% Marsanne, 36% Viognier, and 10% Roussanne. There's a hint of pear on the nose. Drinking the wine, it's crisp and clean. This is definitely not a sweet white wine. While I was drinking the wine I kept imagining a backyard barbecue with chicken and pasta salads and sun. It's definitely a summer wine so if you have the chance to buy it during GO's wine sale from March 30th through April 3rd you should do it! Summer is not so far away.
But, back to the wine. I definitely get a lot of green apple with this wine. Mr Mary Cooks had only one glass (he's not a fan of whites) but I easily drank the rest of the bottle. I am an equal opportunity wine drinker. If you're only a marginal fan of white wines you may not like this. The Mr said it smelled like Play-Doh. While I could see how he could smell that I didn't think it was a bad thing.
By the way, we drank this with a whole chicken cooked in the slow cooker.
I was intending on blogging the recipe but, quite frankly, the chicken turned out dry (!!) and not all that great. I was disappointed but it reinforces my desire to have a programmable slow cooker vs. my old-school "off-low-high" model.
I have more wines to blog about even though the "official" period has ended. I have three bottles left and I'm intending on sharing them all with you!