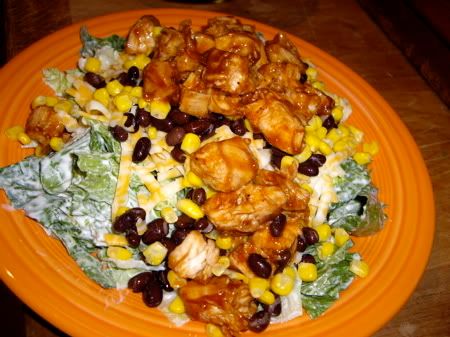 There were far too many ingredients to line up for this recipe so I'll just list the recipe here:
California Pizza Kitchens Bbq Chicken Salad Recipe
40 min | 25 min prep
SERVES 4, or 8 appetizer servings
FRIED TORTILLA STRIPS
* vegetable oil, for deep-frying
* 12 corn tortillas, cut 1/4-inch strips
GARDEN HERB RANCH DRESSING
* 1/2 teaspoon dry mustard
* 1/4 teaspoon cold water
* 3/4 cup mayonnaise
* 1 cup buttermilk
* 8 tablespoons sour cream
* 1/2 tablespoon apple cider vinegar
* 1/2 tablespoon thinly-sliced scallion tops, and whites
* 2 teaspoons minced garlic
* 2 teaspoons minced fresh Italian parsley
* 1/2 teaspoon worcestershire sauce
* 1 teaspoon minced fresh dill
* 1/4 teaspoon minced dried oregano
* 1/2 teaspoon fresh ground black pepper
* 1/4 teaspoon minced fresh basil
*
GRILLED GARLIC BBQ CHICKEN
* 1/2 tablespoon olive oil
* 1/2 tablespoon minced garlic
* 2 teaspoons soy sauce
* 2 teaspoons salt
* 4 boneless skinless chicken breasts (5 oz ea)
* 1/4 cup good-quality sweet-&-spicy barbecue sauce
SALAD
* 1/2 head iceberg lettuce (cored, rinsed and dried and cut into thin 1/8" strips)
* 1/2 head romaine lettuce leaves (separated, trimmed, rinsed, dried, and cut thin strips)
* 12 large fresh basil leaves, cut 1/8-inch strips
* 1 lb jicama, cut 1/4-inch by 1/4-inch by 3/4-inch strips
* 2 cups shredded monterey jack cheese
* 1 cup canned black beans, rinsed drained
* 1 cup canned sweet white corn kernels, drained
* 3 tablespoons chopped fresh cilantro
* 2 lbs fresh ripe tomatoes, cut into 1/2-inch dices
* 1/2 cup good-quality sweet-&-spicy barbecue sauce
1. To Make the Fried Tortilla Strips: In a deep, heavy frying pan, heat several inches of vegetable oil to a temperature of 375 degrees. Working in batches if necessary to prevent overcrowding, carefully add the tortilla strips to the hot oil, submerging them with a metal skimmer or slotted spoon. Fry the tortilla strips until evenly golden, 1 to 2 minutes. Carefully lift them out with the skimmer or slotted spoon and transfer them to paper towels to drain and cool. Set aside, uncovered.
2. To Make the Garden Herb Ranch Dressing: In a mixing bowl, use a fork to stir together the mustard and cold water, forming a paste. Set aside for 10 minutes. Add the remaining dressing ingredients to the bowl and, using a handheld electric mixer at low speed or a whisk, blend together just until smooth, taking care not to incorporate too much air into the dressing. Cover with plastic wrap and refrigerate.
3. To Make the Grilled Garlic and BBQ Chicken: Preheat a stovetop grill or the broiler. In a mixing bowl, stir together the olive oil, garlic, soy sauce, and salt. Turn the chicken breasts in this marinade and leave to marinate at room temperature for about 15 minutes. Grill or broil the chicken breasts until cooked through, 5 to 6 minutes per side. Chill thoroughly in the refrigerator. Cut the chicken breasts into 3/4-inch cubes and, in a bowl, toss with the barbecue sauce to coat well. Cover with plastic wrap and refrigerate.
4. To Make the Salad: In a large mixing bowl, toss together the lettuces, basil, jicama, Monterey Jack cheese, beans, corn, cilantro, dressing, and half of the Fried Tortilla Strips. Transfer the salads to chilled serving plates. Surround each salad with diced tomatoes and the remaining Fried Tortilla Strips. Top each salad with chunks of Grilled Garlic BBQ Chicken and drizzle the chicken with the barbecue sauce. Garnish with the scallion.
First, put the dry mustard in the bowl: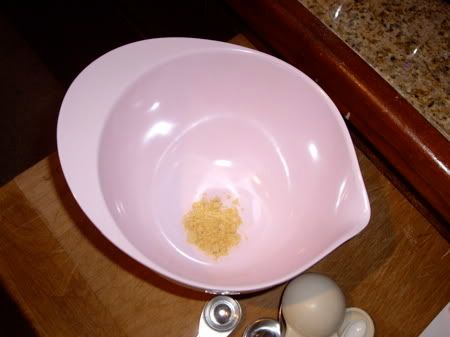 Then add a little water:
Stir it together and let it sit for about 10 minutes or so.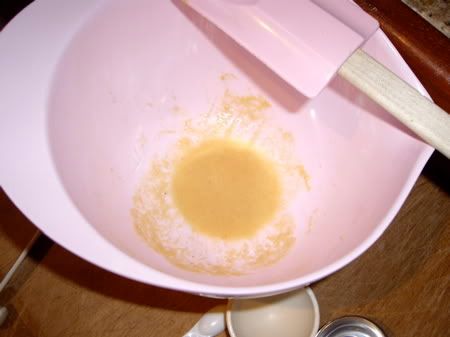 Meanwhile, get the other dressing ingredients ready. First, measure out some mayonnaise.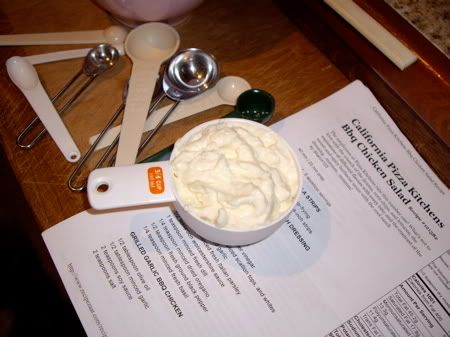 Then, a cup of buttermilk.
And now some sour cream.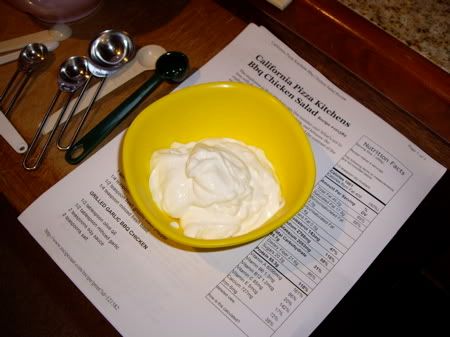 Get your dried herbs together. I used dried dill and basil. Watch out for little snitches!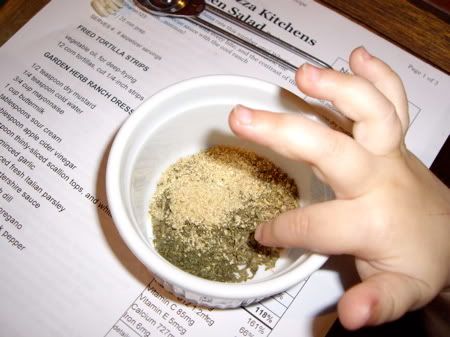 Now for some more wet ingredients. Apple cider vinegar first.
Worcestershire sauce next. Side note: how do you say that? If you're in my house, it's something like, "Worshesheshershire shauce."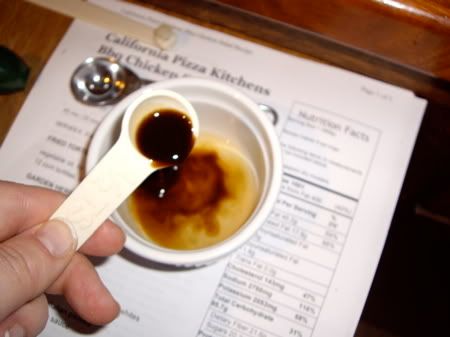 The white part of a green onion gets chopped finely and added next.
Now for some garlic.
Add all those ingredients to the mustard in the bowl.
Stir it with a whisk and make sure not to make a mess. Or you can make one like I did. No biggie!
Now it is time to make a marinade for the chicken. Put some olive oil into a small bowl or ramekin.
Add some salt...
...and some soy sauce. I thought this would make the chicken too incredibly salty but it actually worked fine.
Of course you need some more garlic!
Pour it on your chicken and mix up. Let it sit for about 15 minutes or so.
Heat up your grill pan. I sprayed mine liberally with cooking spray. It has definite battle scars!
Drink time! Pour yourself a nice big glass of sweet tea! Yeah, I know. No alcohol. But I had things to do after dinner.
Put your chicken on the hot grill for about 4 minutes.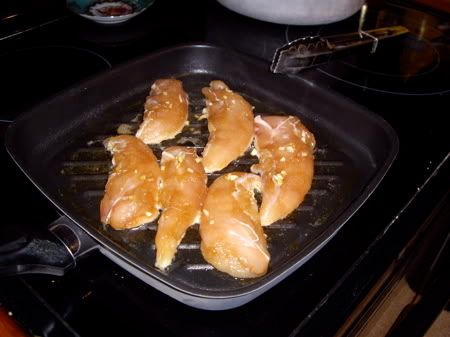 Then flip over and cook for about 4 more minutes, or so, until they're done.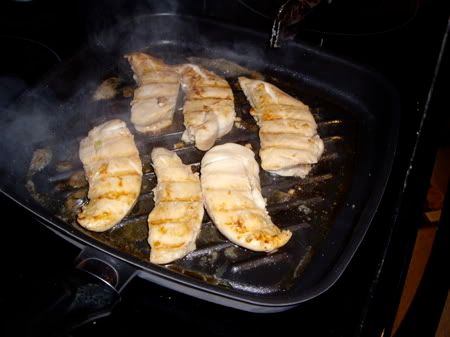 Let those yummy chicken pieces chill out on the plate for a bit.
After they've cooled, cut them up into pieces that will be easy to eat later.
Douse with some barbecue sauce...
...and mix it up! Afterwards, let this chill in the fridge whilst you make the rest of the salad.
Grate some cheese. I used Colby Jack and it was delicious.
Open a can of corn.
Now, drain and rinse a can of black beans (gah, not pictured!) and chop up about 3 green onions.
Chop up some cilantro next. However much you use is up to you. I would die without cilantro so I used quite a bit.
Chop up some iceberg lettuce.
Chop up some romaine lettuce next!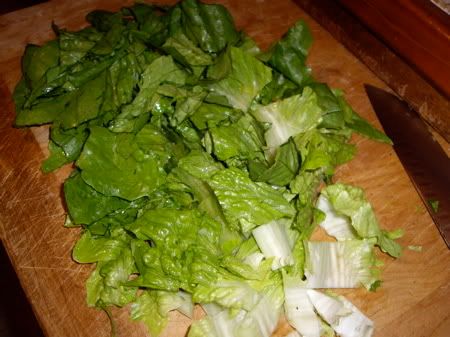 Add it to the bowl along with all the other green stuff you just cut up.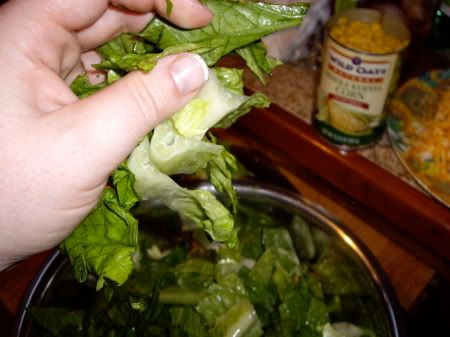 Pour some dressing in. NOTE! This recipe made a lot of dressing and was a bit too much. Also, if you can make the dressing earlier in the day or the day before that'd be ideal.
Mix it with the greens.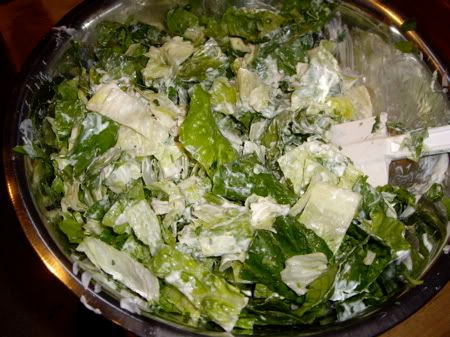 Then, I put a bed of greens on a plate and sprinkled other ingredients on top of that bed.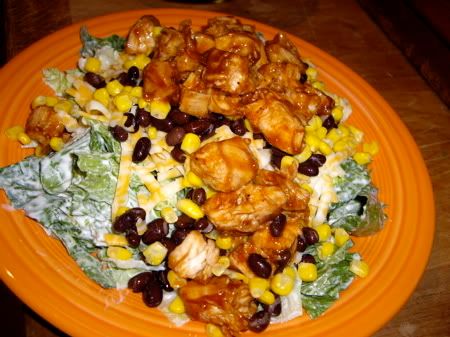 This salad is pretty similar to one I eat at a restaurant near work. Next time I would maybe use red onions instead of green onions or perhaps in addition to the green onions. Tomatoes might be good in here, but I didn't use them. I also didn't use the jicama as called for in the recipe. Anyway, this was so good and refreshing on a hot day!