Taco Bake! I always put vegetables in there to pad out the casserole and to make it more nutritious. Also, I used ground chicken, not ground beef.
And, look! I used a small plate.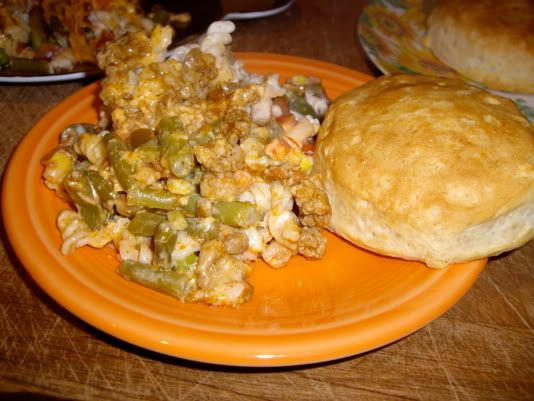 Here's the Taco Bake recipe from
Kraft Food and Family.
It's pretty good as is but I like the veggies in it (I just boil the frozen veggies along with the pasta).
Taco Bake
Prep Time: 15 min
Total Time: 35 min
Makes: 6 servings, 1 cup each
What You Need
1 pkg. (14 oz.) KRAFT Deluxe Macaroni & Cheese Dinner
1 lb. ground beef
1 pkg. (1-1/4 oz.) TACO BELL® HOME ORIGINALS® Taco Seasoning Mix
3/4 cup BREAKSTONE'S or KNUDSEN Sour Cream
1-1/2 cups KRAFT Shredded Cheddar Cheese, divided
1 cup TACO BELL® HOME ORIGINALS® Thick 'N Chunky Salsa
Make It
HEAT oven to 400°F. Prepare Dinner as directed on package. While Macaroni is cooking, cook meat with taco seasoning as directed on package.
STIR sour cream into prepared Dinner; spoon 1/2 into 8-inch square baking dish. Top with layers of meat mixture, 1 cup cheese and remaining Dinner mixture; cover with foil.
BAKE 15 min.; top with salsa and remaining cheese. Bake, uncovered, 5 min. or until cheese is melted.
TACO BELL® and HOME ORIGINALS® are trademarks owned and licensed by Taco Bell Corp.
Kraft Kitchens Tips
Size-Wise
Keep an eye on portion size when you enjoy this hearty meal.
Special Extra
For extra crunch, prepare and bake as directed, topping with 1/2 cup coarsely crushed tortilla chips along with the salsa and cheese.