Here is the post you have all been waiting for!
About a year ago I first tried Tom Douglas' Triple Coconut Cream Pie at one of his restaurants called Lola. I don't really care for coconut all that much but had heard of its legendary goodness. Well, the legends didn't lie. It was delicious! I've had it a few times since then and decided instead of buying a pie for Thanksgiving ($35) I would make it instead.
I have only made pumpkin pies before; and even then, I had only used Pillsbury's pre-made pie crust. Not that there's anything wrong with that. I was a little hesitant about making this crust but figured what's the worst that could happen?
The recipe is available in Douglas' book,
Seattle Kitchen
. I lost my copy of the recipe so I found it online at
Cakespy.
Here we go! The crust is first.
Coconut pie crust
MAKES: 1 (9-inch) pie crust
PREP: 20 minutes
CHILL: 2 hours
BAKE: 34 minutes
1 cup plus 2 tablespoons all-purpose flour
1/2 cup sweetened shredded coconut
1/2 cup cold unsalted butter, cut into small pieces
2 teaspoons sugar
1/4 teaspoon kosher salt
3 to 5 tablespoons ice water
1. Pulse first 5 ingredients in a food processor 6 to 10 times or until mixture is crumbly. Add water, 1 tablespoon at a time, pulsing once after each addition, until dough holds together when pressed between fingers. (Dough will not form a ball or even clump together in processor—it will be loose.)
2. Turn dough out onto a large sheet of plastic wrap; press into a disc. Cover with plastic wrap, and chill 1 hour.
3. Roll dough to a 12- to 13-inch circle on a lightly floured surface. Fit into a 9-inch pie plate, trimming excess to a 1- to 11/2-inch overhang. Turn dough under along rim of pie pan, and flute edges. Chill at least 1 hour before baking.
4. Preheat oven to 400°. Place a sheet of aluminum foil or parchment paper in piecrust, extending over edges, and fill with dried beans, rice, or pie weights. Bake at 400° for 20 minutes. Remove from oven; discard foil and beans, and return piecrust to oven. Bake for 14 to 17 more minutes or until edges are golden brown. Remove from oven, and cool completely on a wire rack.
Here are the ingredients:
I first put the flour into the food processor.
Then the coconut went in.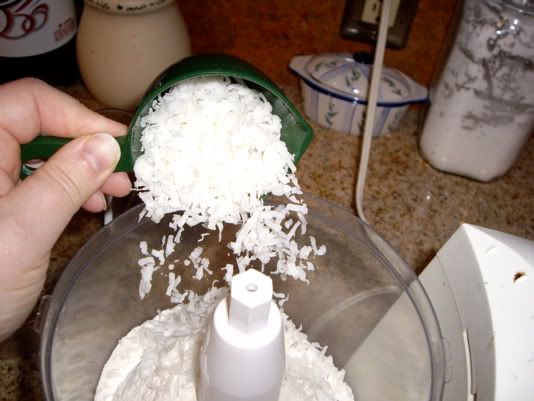 Sugar's up next!
Just a little bit of salt for the dough...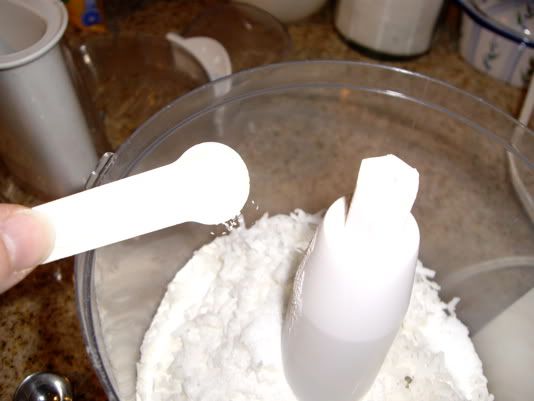 Slice your butter up and put it into the food processor.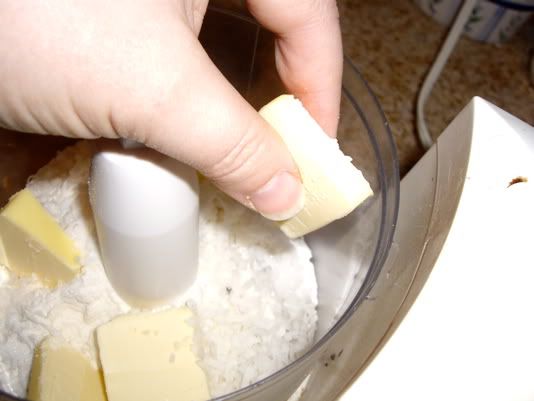 Per the recipe, add the water one tablespoon at a time. I actually did use all 5 tablespoons.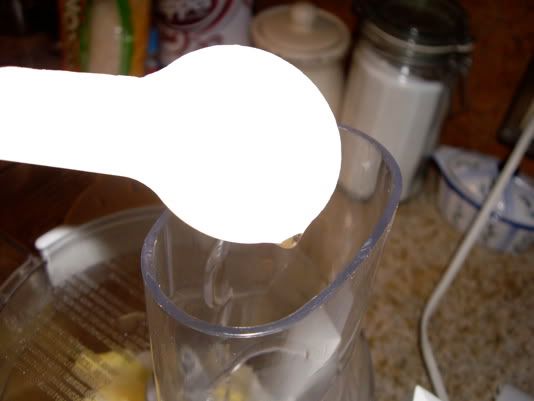 Here is what it looked like. A bunch of crumbs.
Then, I put a piece of plastic wrap down on my counter and poured the contents of the food processor bowl onto the wrap.
Using the plastic wrap, I patted it into a disc. It then went into the refrigerator for one hour.
After it had been in the refrigerator I found this nifty Tupperware dough measuring thingy that the previous owners of our house had left. We have lived here for five years and I think this is the first, maybe second, time I had ever used it.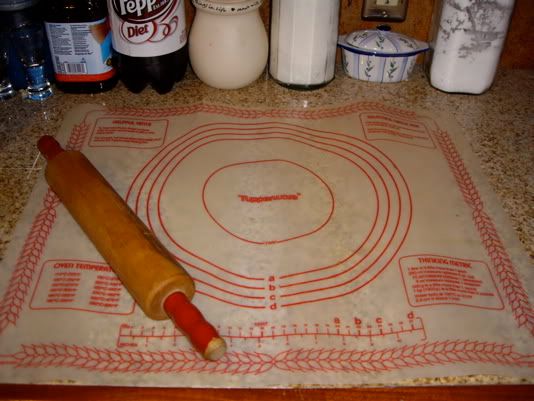 I spread a bit of flour on the mat and on the rolling pin. Then I put the dough down.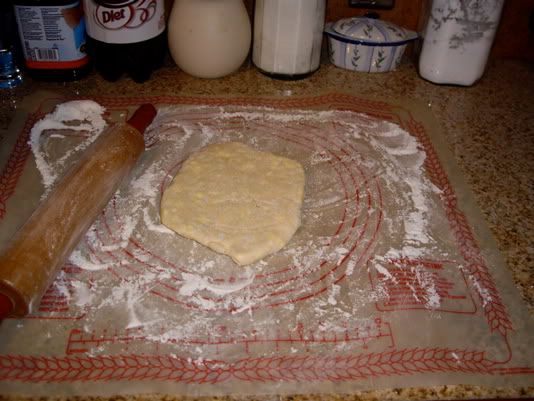 I worked as quickly as I could to get it spread out to the size necessary.
It took a bit of finessing but I managed to get it into the pie plate. This was not easy for me.
Now, the pie plate went back into the refrigerator for another hour. Once it came out I covered the bottom of it with parchment paper.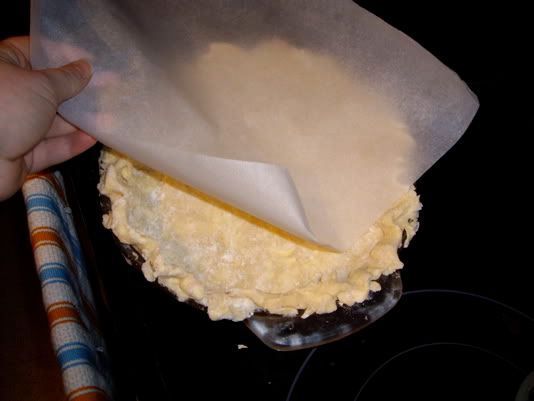 I used a one pound bag of pinto beans as pie weights.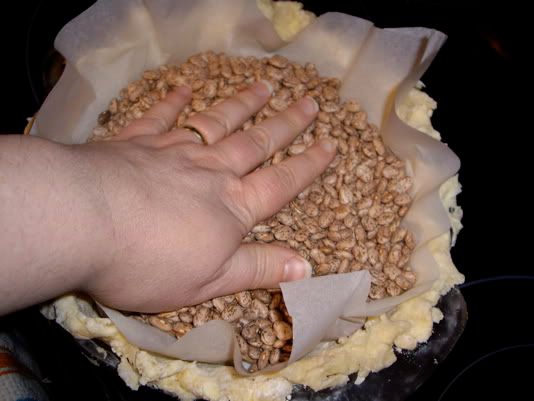 It went into a 400 degree oven for 20 minutes. When it came out, it looked like this:
Then, I put it back in for about 15 minutes. No, it's not pretty. I was a little worried at this point. I left it on a wire rack to cool until the next morning (it was 2:30 a.m. after the baking).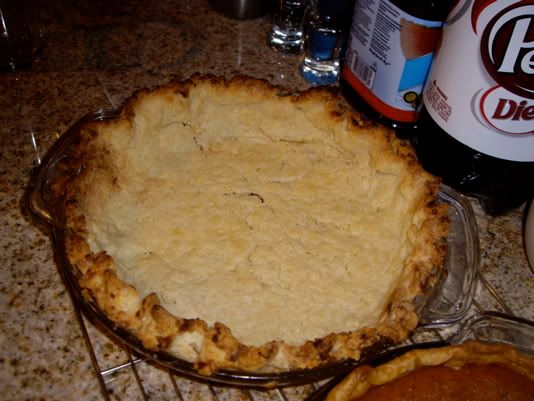 Now it is time to make the coconut pastry cream!
Here is the rest of the recipe:
Triple Coconut Cream Pie
(Makes one 9-inch pie)
Ingredients:
For The Coconut Pastry Cream
* 2 cups milk
* 2 cups sweetened shredded coconut
* 1 vanilla bean, split in half lengthwise
* 2 large eggs
* 1/2 cup plus 2 tablespoons sugar
* 3 tablespoons all-purpose flour
* 1/4 cup (1/2 stick) unsalted butter, softened
For The Pie
* One 9-inch Coconut Pie Shell (find the recipe here),
* prebaked and cooled
* 2 1/2 cups heavy cream, chilled
* 1/3 cup sugar
* 1 teaspoon pure vanilla extract
For Garnish
* 2 ounces unsweetened "chip" or large-shred coconut (about 11/2 cups) or sweetened shredded coconut
* Chunks of white chocolate (4 to 6 ounces, to make 2 ounces of curls)
Instructions
1. To make the pastry cream, combine the milk and coconut in a medium saucepan. Scrape the seeds from the vanilla bean and add both the seeds and pod to the milk mixture. Place the saucepan over medium-high heat and stir occasionally until the mixture almost comes to a boil.
2. In a bowl, whisk together the eggs, sugar, and flour until well combined. Temper the eggs (to keep them from scrambling) by pouring a small amount (about 1/3 Cup) of the scalded milk into the egg mixture while whisking. Then add the warmed egg mixture to the saucepan of milk and coconut. Whisk over medium-high heat until the pastry cream thickens and begins to bubble. Keep whisking until the mixture is very thick, 4 to 5 minutes more. Remove the saucepan from the heat. Add the butter and whisk until it melts. Remove and discard the vanilla pod. Transfer the pastry cream to a bowl and place it over a bowl of ice water. Stir occasionally until it is cool. Place a piece of plastic wrap directly on the surface of the pastry cream to prevent a crust from forming and refrigerate until completely cold. The pastry cream will thicken as it cools.
3. When the pastry cream is cold, fill the prebaked pie shell with it, smoothing the surface. In an electric mixer with the whisk, whip the heavy cream with the sugar and vanilla on medium speed. Gradually increase the speed to high and whip to peaks that are firm enough to hold their shape. Fill a pastry bag fitted with a star tip with the whipped cream and pipe it all over the surface of the pie, or spoon it over.
4. For the garnish, preheat the oven to 350°F. Spread the coconut chips on a baking sheet and toast in the oven, watching carefully and stirring once or twice, since coconut burns easily, until lightly browned, 7 to 8 minutes. Use a vegetable peeler to scrape about 2 ounces of the white chocolate into curls.
On The Plate
Cut the pie into 6 to 8 wedges and place on dessert plates. Decorate each wedge of pie with white chocolate curls and the toasted coconut.
Ingredients for the pastry cream looked like this:
I realized, too late, that not only had I not gotten a cube of butter out to soften, but the only butter I had was frozen! I quickly did an internet search about softening butter rapidly and came across the tip to grate it. This would work like a charm.
I split a vanilla bean first. It was the first time I had done this as well.
Then, I scraped the seeds using the blade of the knife.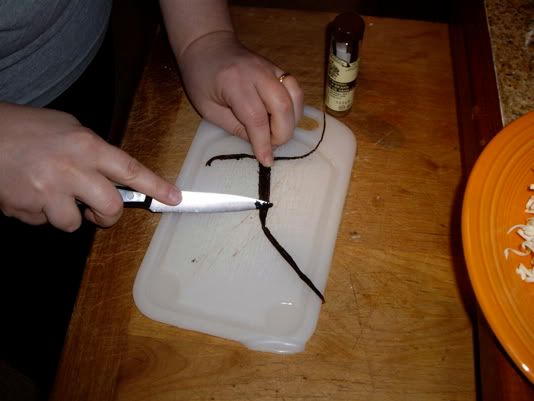 Into the pot went the coconut.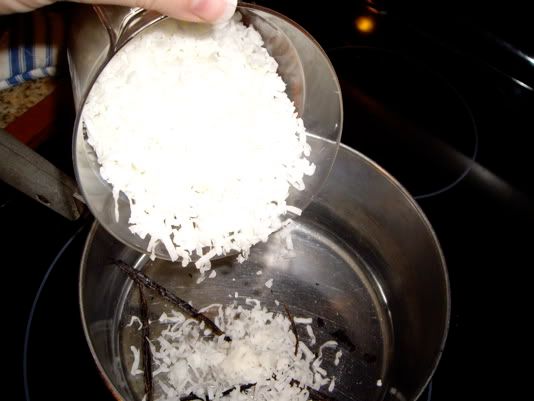 Then, the milk. I used 2% as it is what we had on hand and it was just fine.
The vanilla bean seeds and pod went in to the pot.
I had my assistant chef stir the mixture while I made the next part.
Two eggs go into the bowl.
Then, some sugar:
Finally, some flour: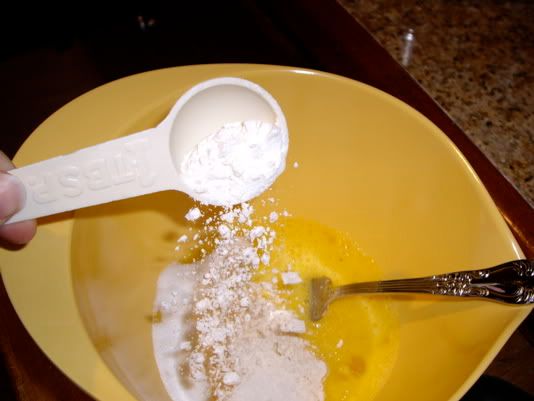 I used a fork to stir everything up.
By this time, the milk/coconut/vanilla mixture was starting to boil. I switched to a whisk.
After it was heated to almost a boil, it was time to add the egg mixture. I didn't get a photo of this next part because I was working quickly so as to avoid burning the milk but I put some milk mixture into the egg mixture to temper it. Coconut scrambled eggs were not on the menu! I started with about 1/3 cup of hot milk mixture and probably put in about 2/3 cup milk into the eggs before I put the eggs (and a bit of milk) into the pot.
I whisked constantly for about 5 minutes until it thickened considerably. Then I took it off the burner and added the butter.
I prepared two metal bowls: one big and one smaller. The big one had ice water in it.
I poured the mixture into the smaller bowl and then placed it in the bowl with the ice water. Occasionally I would stir it until it was fairly cool.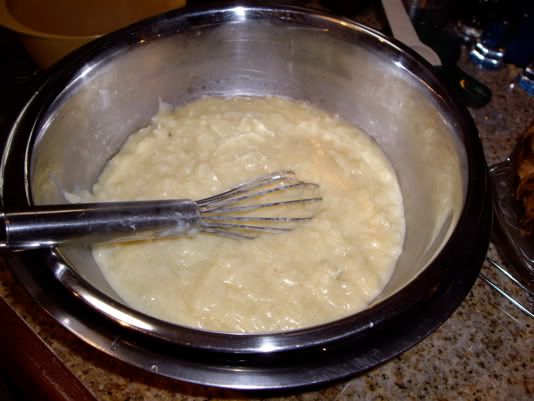 After it was cooled, I covered it with plastic wrap and had it right on the surface so a skin would not form.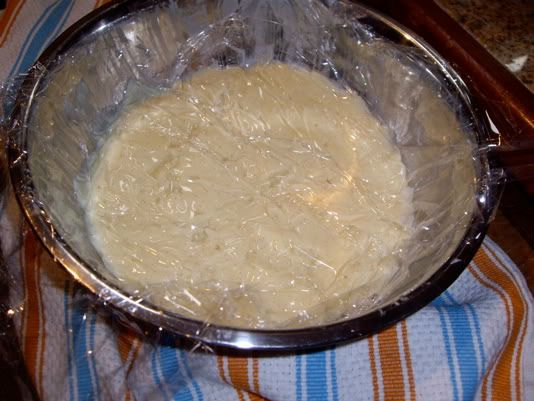 Here are the ingredients for the garnish: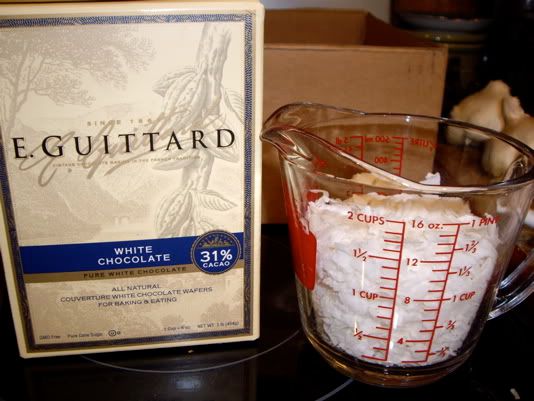 Note the box of white chocolate says they're discs. I somehow missed that in the store! D'oh! So, I had to punt. I chopped them up into small pieces.
The coconut went on to a cookie sheet to be toasted.
Here are the ingredients for the whipped cream:
The sugar went into the mixer bowl.
The heavy cream and vanilla did as well. I then mixed it on medium, then high speed. It didn't take very long.
I had poured the cold pastry cream into the pie crust.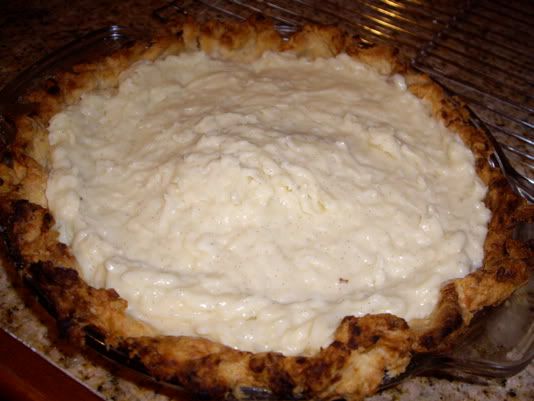 Mr. Mary Cooks then piped the whipped cream onto the pie. I don't do piping.
He did a great job!
I put the garnish on. First, the white chocolate: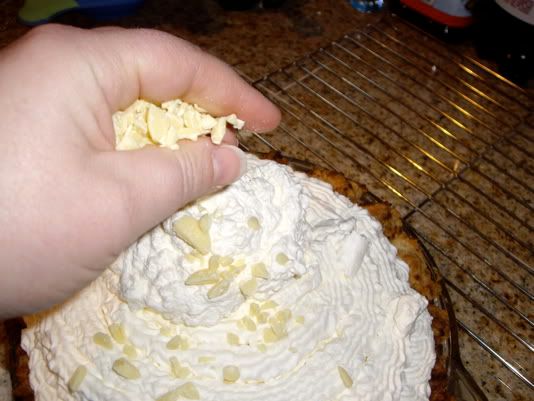 And then the toasted coconut: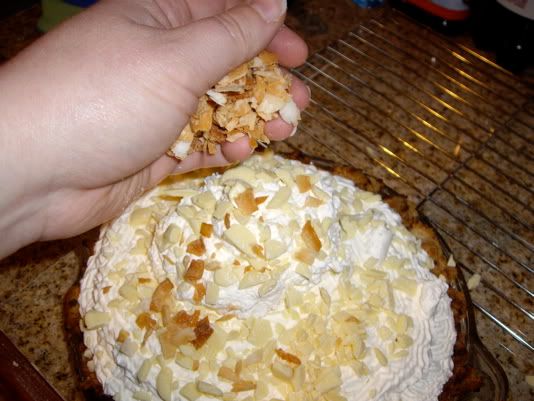 This is what the pie looked like. It looked so good!
After Thanksgiving dinner, my dad cut into it.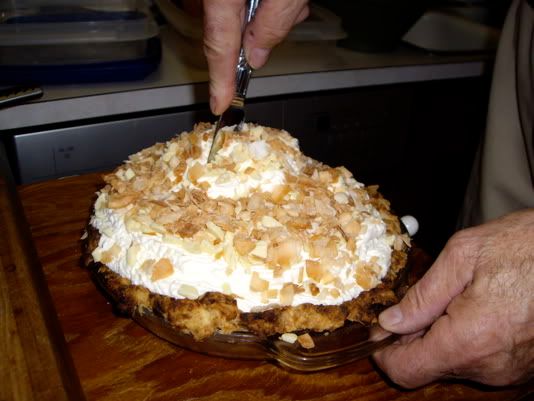 My dad had an interesting question for me. He wanted to know how my version stacked up against Tom Douglas' version. I told him it was pretty similar, actually. Flavor was similar. Tom's looks better than mine. His crust is better than mine was. Still, there were no leftovers of this pie!
I will say it probably took about 5 hours, total, to make. Also, I burned my arm on the top element of the oven when I got the pie crust out the first time. I will always have a memento of my first pie from scratch.
Would I do it again? Absolutely. And I'm really happy my fear of making pies has diminished. If I could tackle this one, I'm sure I could make more.
This pie was delicious. Seriously, you could not ask for a better pie.