Tonight for dinner I was inspired and decided to make salmon in a Thai style. I had a can of pre-made green curry in my pantry. After opening it, I tossed it in favor of making my own.
Start with some nice salmon. I used salmon steaks but fillets would have been better. It's still beautiful, even after two months in the freezer.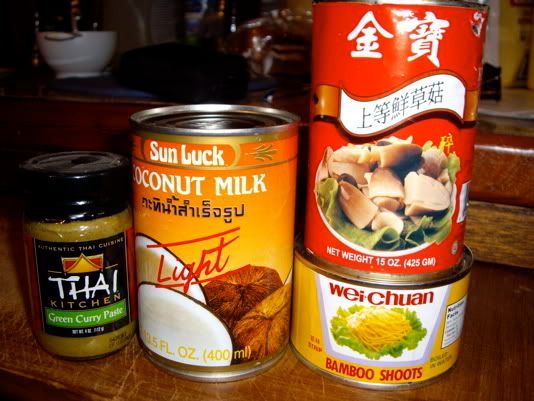 You need green curry paste, coconut milk (light is okay), bamboo shoots, straw mushrooms, fish sauce, brown sugar, and chicken broth.
Pour the coconut milk into a pan. I swirled it around as I poured so it would look beautiful.
Add the green curry paste. How much you add depends upon how spicy you like your food. I added about 1 teaspoon but if the kids weren't going to eat this I would have added about 1 tablespoon!
Bring it to a boil then turn it down and let it simmer for about 5 minutes.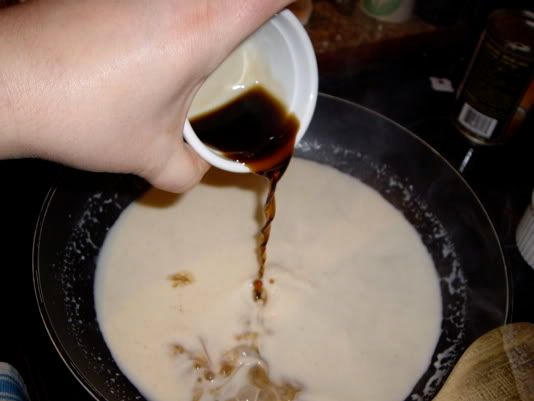 Add 3 tablespoons of beautiful fish sauce. Sure, it looks great but it smells awful. Try not to contemplate how they make it.
Add two tablespoons of brown sugar. Stir to incorporate.
Add 1/3 cup of chicken broth. I used homemade.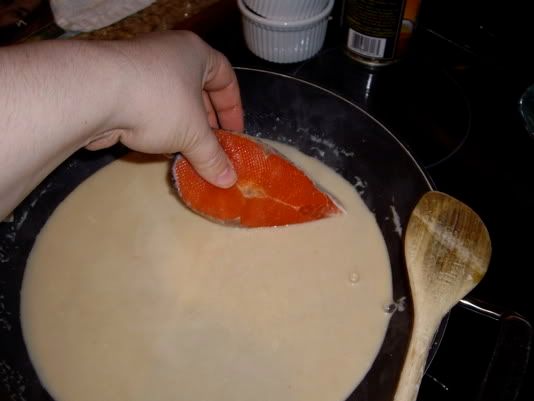 Lay the salmon down into the pan. You can also use chicken that has been cut up into bite-sized pieces (in fact, that's how I usually make this).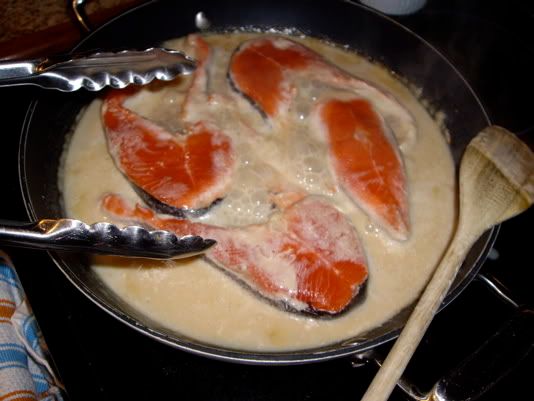 After the salmon has cooked on one side for 10 minutes, carefully flip it over and let it cook for 5 minutes.
Add bamboo shoots - strips are best - to the pan.
Add some drained straw mushrooms. I use the pieces (broken) because they're way cheaper than the whole mushrooms. Heat the mixture for about another 5 minutes or until the salmon is cooked.
Serve!
This was very tasty. I am missing the Thai basil leaves which would have made the flavor better but I didn't have any on hand (I had everything else). You want to serve it over calrose (sticky) rice.