Yesterday we had my husband's friends over for dinner. I made mojitos, enchiladas, and my quinoa and black beans. I made a great vegetarian meal and I will definitely be making it again. The enchilada casserole was
so good
!
First, I needed to make the mojito mixture.
Ingredients:
club soda
rum
lime juice (you can use real limes but for a pitcher it's easier to do premade)
mint leaves
simple syrup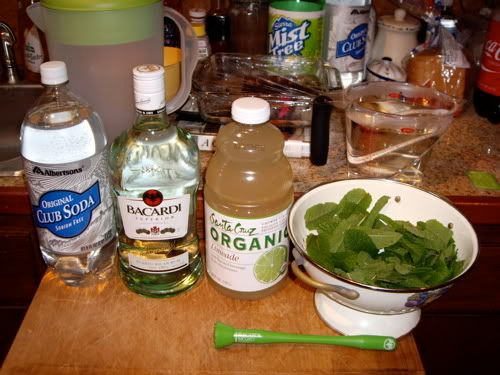 Put the mint leaves into the pitcher. I ended up using about 50-60 leaves for a gallon of mix.
Measure, then pour the rum into the pitcher. I used a total of four cups.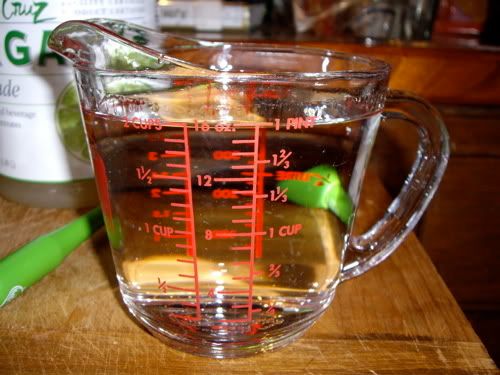 Now, muddle the mint with the rum. Sometimes it helps to have ice in there to macerate the leaves more heartily.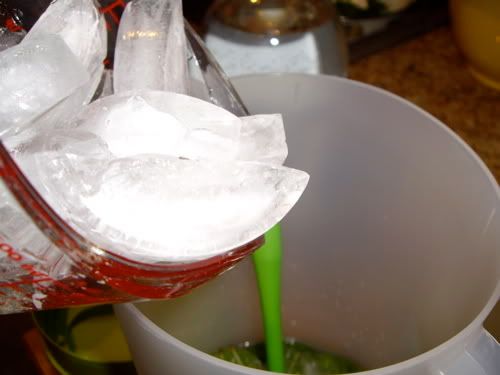 Now, measure the simple syrup and pour it in. I had 3 1/2 cups of sugar to 3 1/2 cups of water when I made the syrup and ended up just putting all of it into the pitcher.
I forgot to take a photo of the lime juice going in but I used about four cups. At the end, your mix looks like this: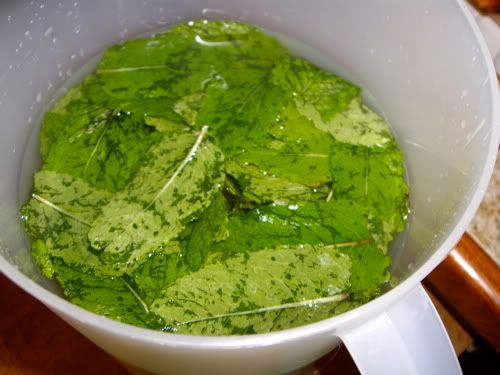 Put ice cubes into a cup and fill the cup about 2/3 full of mojito mix. Top off with club soda, stir, and then you have a lovely refreshing drink!
Now, on to the enchilada casserole. This was so much easier than making enchiladas and the result was still so yummy.
Ingredients:
Corn tortillas
Large can enchilada sauce
Beans (I subbed chili beans for the black beans pictured because I realized I needed two for my quinoa dish)
Bell pepper
Green onions
Cheese
Two small cans sliced olives
4 oz. can green chiles
Smart Ground (Lightlife's brand has gotten better; usually I use Yves)
Dice up the bell pepper.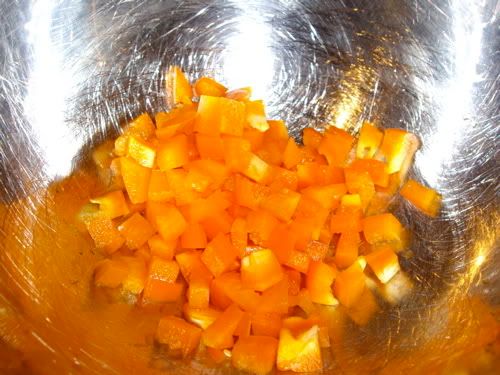 Next, slice up the green onions. I used the whole bunch.
Decide to use chili beans instead (because otherwise my choice was cannelini and those just don't go with enchiladas...).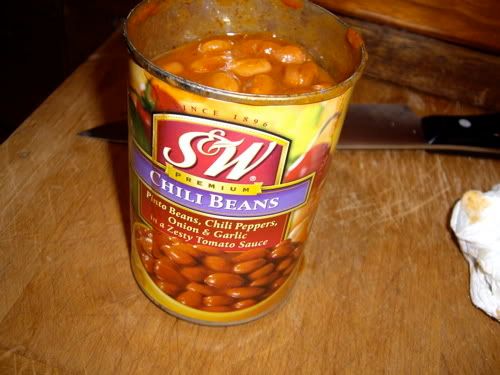 Add them to the bowl. I drained most of the juice off.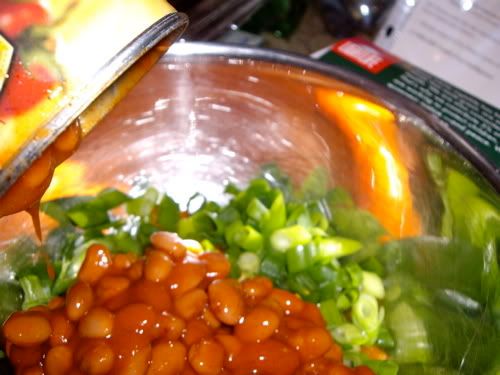 Next, the Smart Ground goes in. Even as a non-veg I love this because there's no pesky cooking beforehand! The teen said this would be better if it had actual meat in it and I don't understand that. For me, this is more of a texture thing than anything else. I don't actually taste it.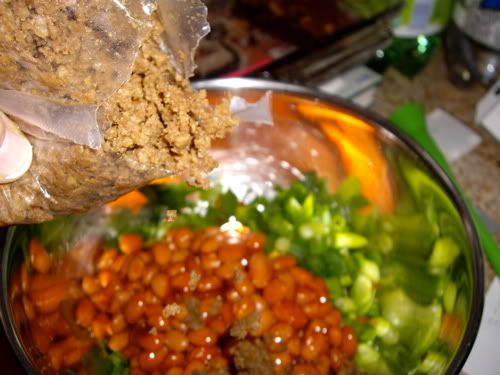 Add the can of green chiles. No need to drain.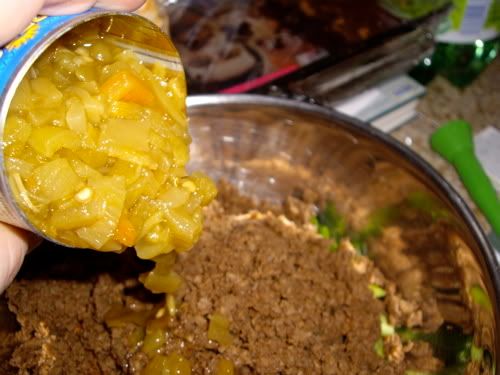 Add about 8 oz. of cheese and mix it all together.
Now, preheat your oven to 350 and spray the bottom of a 9x13 (or is it 11?) pan with cooking spray. Lay down your first layer of tortillas.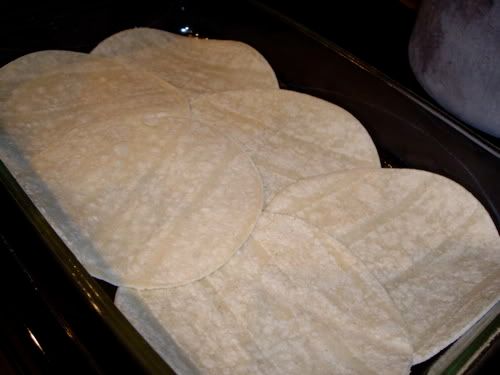 Pour some enchilada sauce onto the tortillas.
Spread some of the filling onto the first layer (ugh, sorry the pic is blurry).
Repeat layers. I think I had three layers.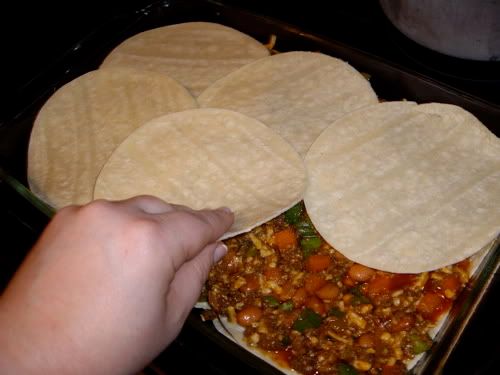 End with a layer of tortillas.
Cover with the rest of the sauce.
Now, drain your olives and spread out on top of the sauce.
Top with the rest of the cheese. I love cheese so I have a heavy hand. If you're watching calories you can certainly use less. But why? Cheese is good for you and so good!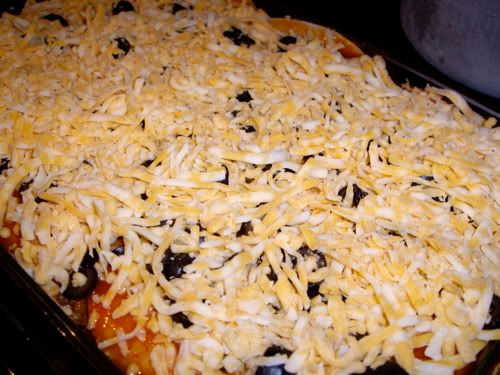 Now, cover with foil and bake in the oven for about 20 minutes. After that, take the foil off and cook for another 15 minutes or so, until the cheese is bubbly and everything is cooked through.
Doesn't that look awesome?!
Now, to the quinoa and black beans. I've made this before and have shared an after pic but thought it'd be cool to roll with the process pictures.
Ingredients:
1 onion, chopped
3 cloves of garlic, chopped
1 cans of black beans, drained and rinsed
3/4 cup quinoa
1 1/2 cups or so of vegetable broth
1 1/2 cups or so of frozen corn kernels
1/2 cup cilantro
1/4 tsp. cayenne
1 tsp. cumin
salt and pepper
Heat some oil up in the pan.
Add the onions and garlic and sauté until lightly browned (about 5 minutes).
After the onions are nice and soft add the quinoa.
Stir around a bit, then add the vegetable broth. I love how rich-looking this one is!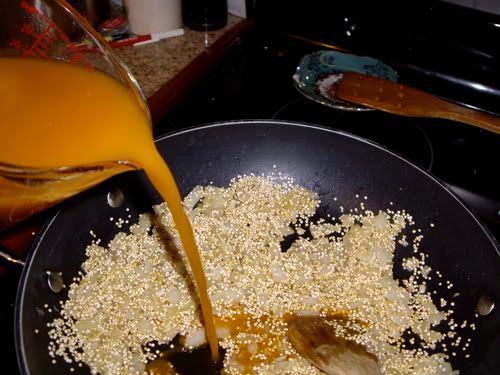 Add the spices next.
Now, bring the mixture to a boil. Then you will reduce the heat to low, cover, and simmer for about 20 minutes. You'll want to stir it occasionally to make sure it's not sticking. Also, I've found that it gets done in about 15 minutes but your mileage may vary.
After the liquid is absorbed add the rest of the ingredients. First to go in are the beans.
Then the corn:
Finally, the cilantro.
At this time I check to make sure it has enough liquid. Sometimes you need to add more. I did this time, so I added a few more splashes of vegetable broth.
Et voila! You have a nice, vegan meal on your hands! I used it as a side but it certainly could be a main dish.
Check out our yummy feast! It was so good and I was so full.