...cooking blogs are so hard to keep up. Here's the meal I made tonight:
Taco Soup done in the crockpot. This was a hybridization of about three different recipes.
Ingredients:
Chili beans
Black beans
Corn
Tomato sauce
Chicken broth
Two cans of tomatoes
Green chiles
Onion
Chicken tenders
Taco seasoning
Ranch mix
Start dumping all of the ingredients into the crockpot. I didn't drain anything; I just dumped.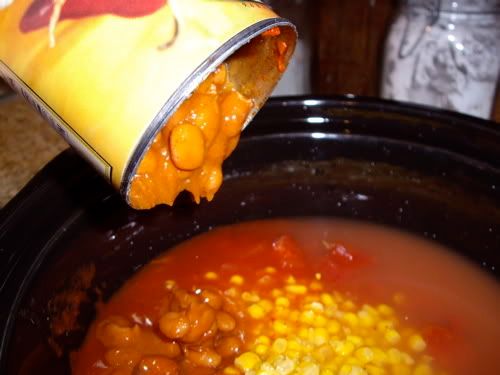 Now, chop your onion and put that in the crockpot as well.
I buy my taco seasoning and ranch dressing in bulk at Costco so I have to measure out the equivalent of a packet.
Dump that into the crockpot as well.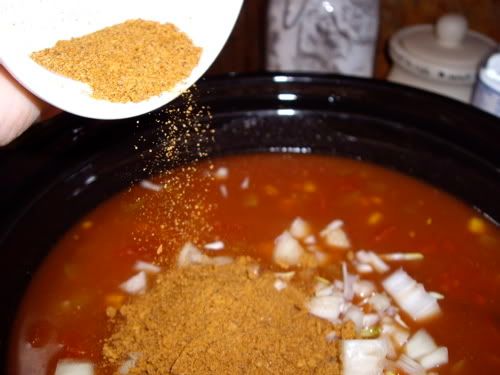 Measure some ranch dressing. I think a packet usually has about an ounce. Also, it's a little lumpy because I've had it for over a year. No matter; it still tastes fine.
Start laying in the breast tenders on top of the soup mixture.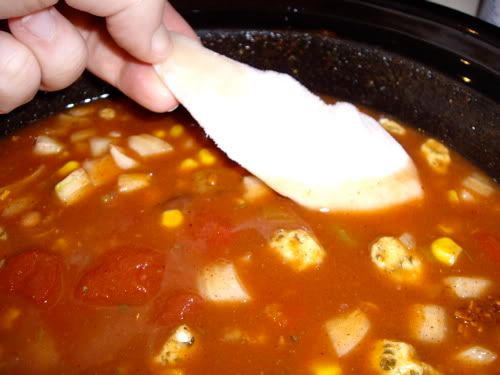 Lay all of them on top of the soup.
Now poke them down so they get just submersed under the liquid. Don't poke them all the way down. I don't know why you don't but one of the recipes said not to, so I didn't.
Put the lid on the crockpot and cook on low all day.
After it has been in the crockpot for about 6 hours, take the chicken out and shred it. I made the teen do this part.
And there you have it! It's perfect! This soup makes a lot which is great because it feeds a family of 5 (including hungry teen who has had 2-3 servings) and there are plenty of leftovers for lunches. Plus, it's easy. I mean, all ya really gotta do is cut up an onion and if you're feeling supremely lazy like I do on occasion you can get your onions pre-chopped in the frozen vegetable section.