Tonight we had a lovely dinner. My parents brought the ham and the fruit salad. I made a potato side dish and the vegetables.
The spread:
Honeybaked Ham:
I roasted asparagus (and green beans) with about a tablespoon of olive oil, 2-3 tablespoons of balsamic vinegar, and about a tablespoon of salt. (Gently mix all of the ingredients together, put on a cookie sheet, and bake in a 425-degree oven for about 15 minutes.)
We tried white asparagus for the first time. Honestly, the white is lovely and nice to look at but I liked the flavor of the green asparagus better.
Now, for the potato side dish.
Ingredients:
2 large russet potatoes, scrubbed clean
1/3 cup olive oil
3/4 cup grated Romano cheese
Kosher salt
Using a mandoline, cut the potatoes into thin slices. (We cut them into 1 mm slices.) Put olive oil in an 8-inch nonstick pan that can also go in the oven.
Lay the first layer of potatoes down in a circle in the pan. This will be the top of the dish at the end so you'll want to make it look pretty.
Brush each layer of potatoes with olive oil.
As you lay down the potatoes, press the layer down. Every other layer, sprinkle with kosher salt and grated Romano cheese.
Keep layering until you reach the top of the pan.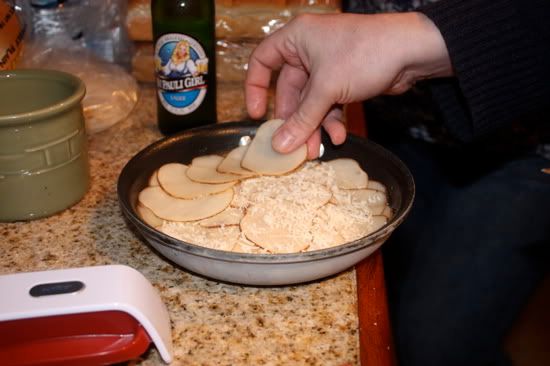 Put the pan over medium-high heat until the olive oil sizzles and the bottom is browned.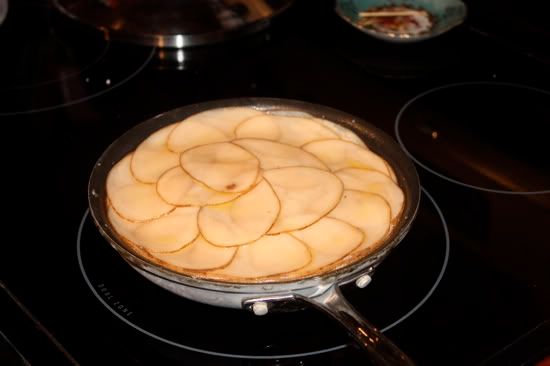 Once the oil is sizzling, put the pan into an oven that was preheated to 425 degrees. Cook for 20 minutes.
Before flipping, be sure to drain off any extra oil! You don't want to burn yourself.
You may have to loosen the potatoes with a heat resistant spatula prior to the flipping.
Flip it onto a lid.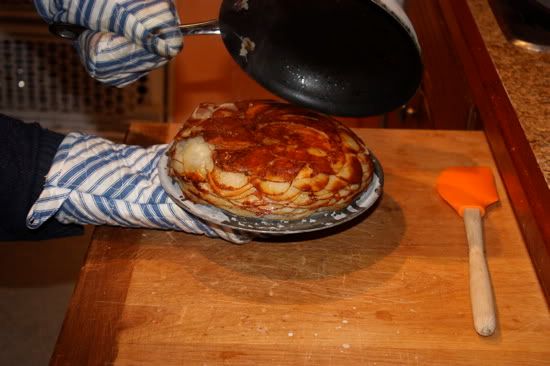 Gently put it back into the pan.
Put it back into the oven for another 15 minutes.
Take it out, let it rest for about 5 minutes. Then cut into wedges and serve.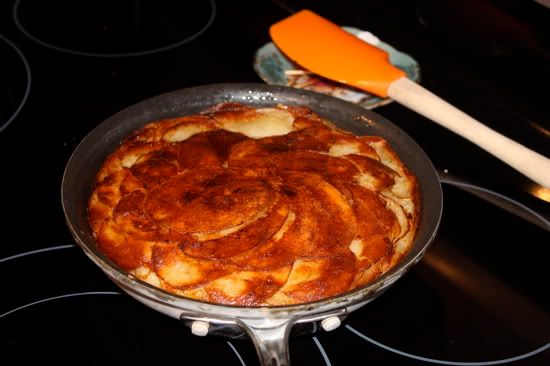 The true test for this dish? Everyone wanted more! Next time we will definitely have to make it in a bigger pan. It was the perfect accompaniment to ham and looked very elegant.
I hope everyone had a great Easter!