Being a
Foodbuzz
featured publisher has its perks. One of those perks is occasionally they send out a product to try and review. This past Friday I came home to a huge box. I opened it and was so pleased to find a lovely note from Foodbuzz along with a package of pasta!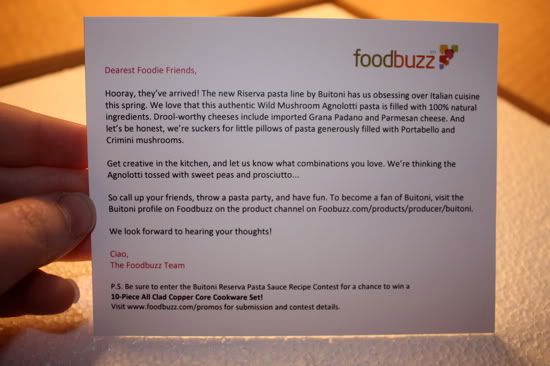 Not just any pasta, but
Wild Mushroom Agnolotti by Buitoni.
For the next 36 hours I thought and thought about what kinds of sauces would go well with this agnolotti. I contemplated alfredo sauce and while that would be good, it would overpower the mushroom. I felt the same way about a marinara sauce. In the end, I developed a flavorful sauce with chicken broth as its base. (Vegetarians: you could easily substitute vegetable broth and make this a vegetarian meal.)
Here is my recipe:
Buitoni Wild Mushroom Agnolotti with Asparagus, Spinach, and Sun-dried Tomatoes
Ingredients:
1 9 oz. package Buitoni Wild Mushroom Agnolotti
1 bunch of asparagus, tough ends trimmed and cut into 1" pieces
4 oz. spinach leaves, washed
7 to 8 sun-dried tomatoes (dried, not packed in oil*), sliced
1 Tbsp. olive oil
3 cloves garlic, minced
1/2 tsp. thyme
1/2 tsp. oregano
1/4 tsp. crushed red pepper flakes
1 1/2 cup chicken broth
1/2 cup white wine
2 Tbsp. butter
4 Tbsp. grated Romano cheese
3 Tbsp. pine nuts, toasted
*I found sun-dried tomatoes at Trader Joe's that were not packed in oil. They were just dry, in a bag.
There are some similar tomatoes here
but I've never purchased from this vendor and can therefore not verify how good they are.
Instructions:
1. Prepare the pasta per the package instructions.
2. Heat olive oil in a wide, deep pan over medium-high heat.
3. Add garlic, thyme, oregano, and crushed red pepper flakes. Stir for about 30 seconds.
4. Add spinach and stir until the leaves have completely wilted.
5. Add the chicken broth and white wine. Bring to a simmer.
6. Add the sun-dried tomatoes. Let simmer for 5 minutes.
7. Add the asparagus and cook for another 4-5 minutes, or until asparagus is mostly tender and bright green.
8. Gently add the agnolotti and stir - gently - to coat with sauce.
9. Put the butter in the pan and stir gently until it is melted.
10. Remove pan from heat, stir in the grated Romano and pine nuts gently.
11. Serve and enjoy!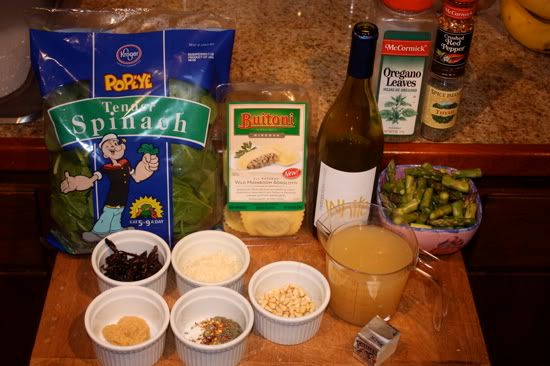 First, the pine nuts were toasted.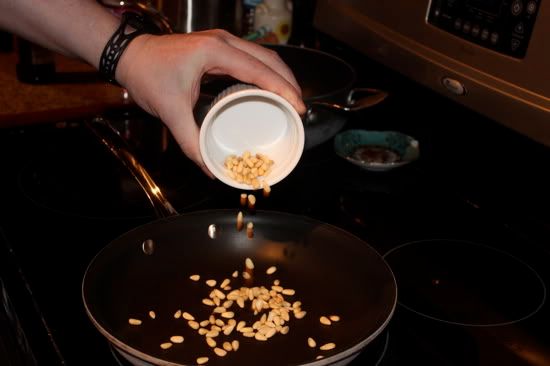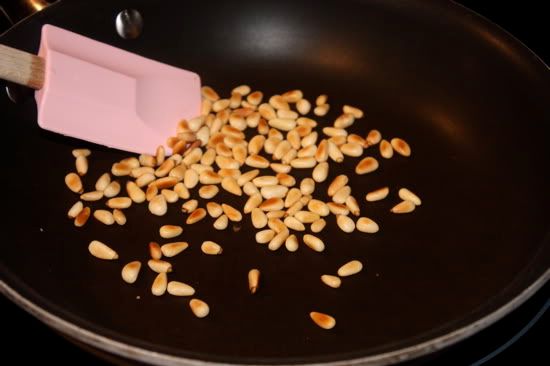 The garlic was first up in the pan. This starts the magic.
Next, the herbs were added.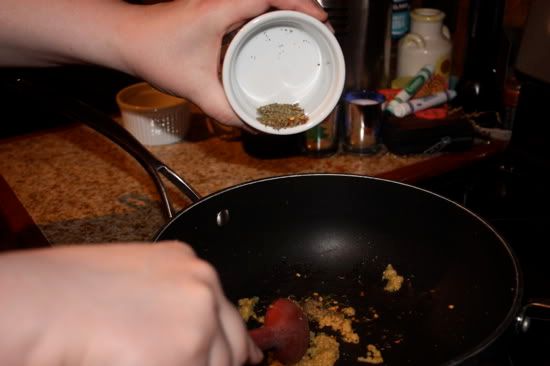 After about 30 seconds, the spinach went into the pan.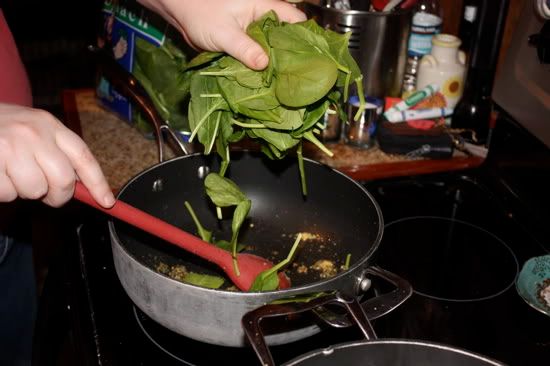 It wilted so nicely, don't you agree?
Next up is the chicken broth and white wine. I just used a white wine blend from Metropolitan Market.
After the liquid came to a simmer I added the sundried tomatoes. I wanted to add them now as opposed to reconstituting them in separate boiling water because I wanted to retain all that lovely tomato flavor and color. These look a little dark because they are sulphur-free. I got them from Trader Joe's.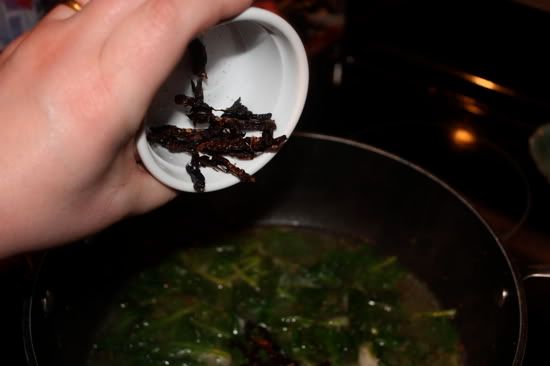 After about 5 minutes I added the cut up asparagus.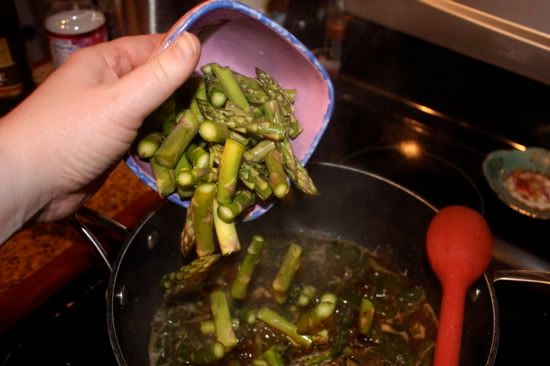 4-5 minutes later I added the agnolotti into the sauce mixture.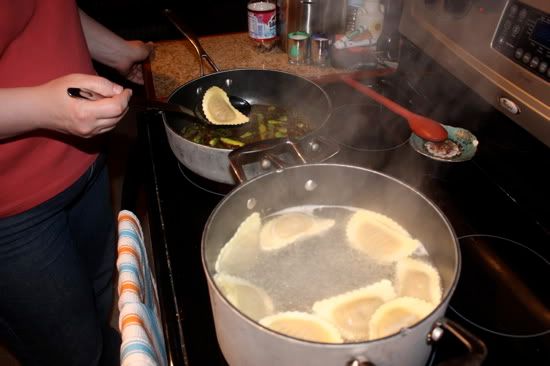 Butter, of course, is a wonderful finish to any sauce!
Stir
gently...
Do not break up those beautiful agnolotti!
Remove the pan from heat and add the grated Romano.
Finally, add the toasted pine nuts. Remember to stir gently!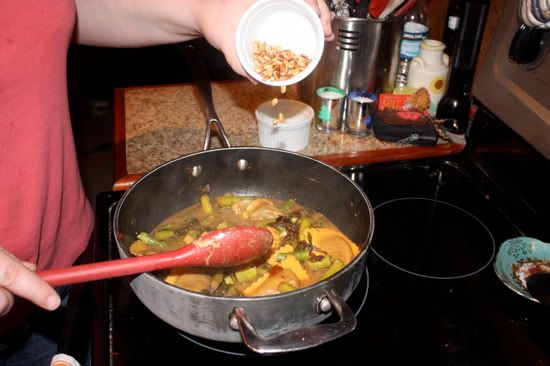 The finished dish is a sight to behold.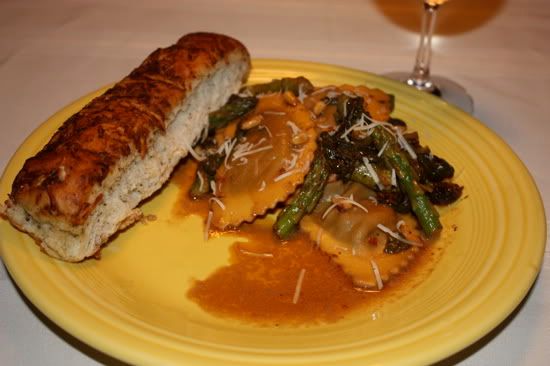 This was delicious!
I have, in the past, picked up some refrigerated ravioli and sauce as a quick meal for the family. Honestly, it is a decent meal but not exactly awe-inspiring, know what I mean? This agnolotti, though, was different. This was special. Gourmet! The flavor was out of this world amazing. It tasted like we had made them at home. The sauce balanced the agnolotti perfectly. This is exactly what they were asking for.
Do you want to know the best thing about this Buitoni pasta? It inspired me to think of other ways to cook it. I wonder how this would taste with beef broth and red wine instead of chicken broth and white wine. Ooooh! And I'd bet it would be lovely with duck broth and fennel!
We will definitely be purchasing this agnolotti as it has totally won us over. And special thanks to Foodbuzz for introducing this wonderful pasta to our kitchen!