I can't believe it has been since April when I last posted. I am going to be more dedicated to this blog now and suddenly seem to have a lot more spare time. Economy, anyone?
Yesterday was my daughter's "Special Sharing Day" at preschool. What this means is she gets to bring a toy or two to share and talk about at school. It's sort of like show-and-tell only she gets to let other kids play with her special toys. It's optional, but she can also bring in a snack for all of the kids. Since we had four overripe bananas in the house I decided to get up early and make banana bread. I want to tinker with the recipe to see if I can make it ultra-healthy (it's already healthy) using wheat flour and agave nectar instead of sugar so we'll see. Next time I have bananas in need of mashing I'm going to play!
Here's the healthy recipe:
------------------
Healthy Banana Bread
Makes one loaf
Prep time: 10 minutes
Baking time: 1 hour
Ingredients:
* 2 eggs
* 2/3 cup white sugar
* 2 ripe bananas, mashed
* 1/2 cup nonfat plain yogurt
* 1/3 cup unsweetened vanilla almond milk (I like Almond Breeze)
* 1 tablespoon canola oil
* 1 tablespoon vanilla extract
* 1 3/4 cups all-purpose flour
* 2 teaspoons baking powder
* 1/2 teaspoon baking soda
* 1/2 teaspoon salt
* 1 teaspoon cinnamon
Directions:
Preheat the oven to 325 degrees. Spray a loaf pan with nonstick cooking spray and lightly flour the pan.
In a large bowl, beat the eggs and the sugar on medium together for 5 minutes. At the end you should have a custard consistency. Turn the beater to low and beat the bananas, yogurt, almond milk, canola oil, and vanilla extract until all liquid ingredients are incorporated.
In a medium bowl, sift together the flour, baking powder, baking soda, salt, and cinnamon. Fold into the liquid ingredients with a spatula until just moistened. Do not overly mix.
Pour the batter into the prepared loaf pan and put in the oven for about 1 hour. Check after 50 minutes by inserting a toothpick in the middle of the loaf. If it comes out clean the bread is done. Cool in pan on a rack for 15 minutes. Then remove from pan and continue to cool the loaf on the rack for another 30 minutes if you can resist the pull of warm banana bread.
------------------
I was only able to take two photos since I was in a hurry to get it done and get my daughter to school. First is a photo of the batter in loaf pans ready to go into the oven and second is a photo of the delicious bread. I made two loaves but please note the recipe above is only for
one loaf
.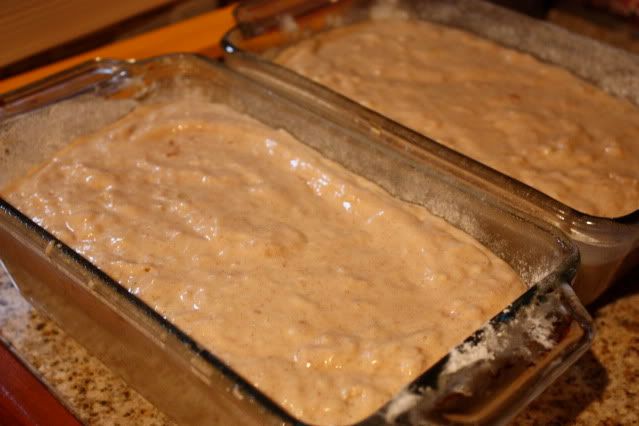 Unfortunately I did not get to taste this. However, every single person who I saw at the daycare yesterday evening told me how delicious it was. One of the women who works at the daycare said there was a little left and wanted to have it for breakfast this morning! My daughter said, "I LOVED it!!"