For the second year in a row I have come home from a wine event with more whites than reds. Hmmm... White wines tend to be more affordable, especially in Woodinville. Finding a $10 bottle of wine was impossible, which is frustrating. When I go to the Spring Barrel Opening in Yakima Valley there are plenty of decent $10 wines.
Anyway, here we go.
Brian Carter Cellars Corrida
.
According to the website:
Spanish-style Red Blend (Exclusive to Wine Club members)
Modeled after the noble Tempranillo based blends of Spain, the wine also contains Merlot, Cabernet Sauvignon and Granacha. A beautiful dark garnet color greets you with aromas of blackberry, rose petals, cedar and spice. Plenty of fruit flavors envelope the mouth along with soft tannins and a long juicy finish.
Because I joined the wine club yesterday I was able to get two bottles
and
a tasting of it. It was delicious! Seriously - so yummy. It was smooth but complex.
Brian Carter Cellars Oriana. Again, from the website:

ORIANA (Latin for 'golden lady')
Uniquely Aromatic White Wine Blend
Oriana utilizes two grapes originally from the Rhone Valley of France. The core variety, Viognier, is rich in aromas of peaches and apricots and Roussanne deepens the peach character and adds a hint of melons. Then blend is finished with Riesling to add a touch of pears and apple blossoms. This richly textured wine finishes with food friendly acidity.
I've had this wine before (a couple of years ago) and loved it. Brian Carter is a mad genius of wine blending. Seriously.
Northwest Totem Cellars Salish. It's a white blend that is refreshing and semi-dry. It will be perfect for a summer dinner.
Airfield Estate Winery's Bombshell Red.
From the website:
41% Syrah, 35% Merlot, 11% Cabernet Sauvignon, 5% Sangiovese, 4% Malbec, 3% Cab Franc

A beloved favorite of many, this approachable signature red table blend has overlapping aromas of oak, vanilla, raspberry jam, and blackcurrants, leaving lingering flavors of dark fruit and toasted oak on the palate. With a rounded, full-bodied mouthfeel, this red blend provides supple tannins ample for pairing with a wide range of foods.
Airfield Estate Winery's Unoaked Chardonnay. I have discovered that I rather enjoy unoaked Chardonnay (but still don't like oaked Chardonnay). From their website:
Crisp, dry, and refreshing with aromas of honeysuckle, melon, and tropical fruit, this 100% stainless steel fermented Chardonnay showcases authentic varietal characteristics. Citrus flavors engage the palate with a round, lively mouthfeel and a lingering finish. This wine is enjoyable on its own or pairs nicely with seafood and pan-Asian cuisine.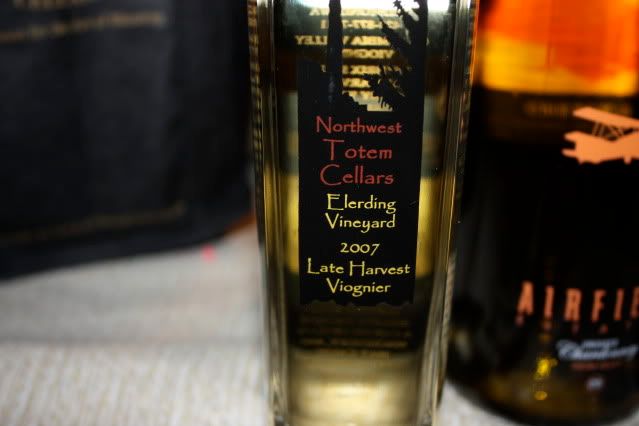 This is the wine I was waiting to taste. I was pretty excited! It is
Northwest Totem Cellars Late Harvest Viognier.
To say this is delicious is a vast understatement. It is definitely a dessert wine but not overly syrupy or sickly sweet. I love it!
Efesté Evergreen Riesling.
From their website:
The Evergreen Riesling combines mineral and slate with flavors of white peach and linden. This wine finishes with wonderful focus and a backbone of mandarin orange.
This wine would be
fantastic
with Asian food. I could easily see drinking it with some nice Thai food.
Hestia's Chenin Blanc.
This was crisp and wonderful! This would be really great with chicken or a light fish like tilapia.
Chatter Creek's Orange Muscat.
For some reason this wine is not on their website. This was sweet, light, and a perfect brunch wine.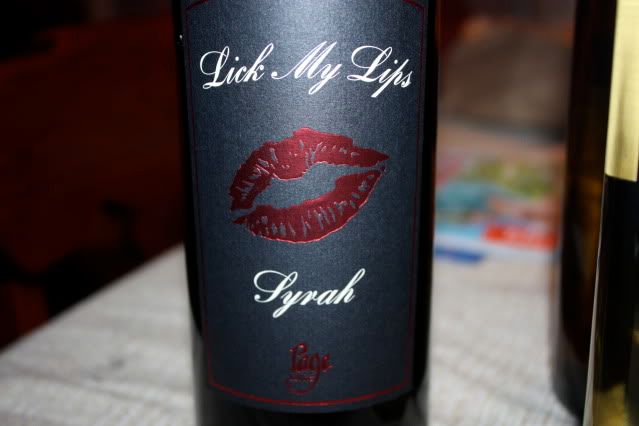 Page Cellars Lick My Lips Syrah.
Are you joking me? Did I really pay $27 for a bottle of Syrah? Oh, yes, I did. It is soooooooooo jammy and yummy. My undying love for the Syrah grape lives on.
Cuillin Hills Dungeon Syrah
is another delicious Syrah! From their website:
Varietals: 86% Syrah, 14% Grenache
Vineyards: Snipes Canyon, Meek, Sagemoor Weinbau
Cooperage: 35% New, Mixed
Aging: 20 Months

Tasting notes provided by Wine Advocate-
"The 2007 The Dungeon Syrah also contains 14% Grenache. Dark ruby/purple in color, it offers up a spicy nose of meat, game, underbrush, kirsch, and blueberry notes. Layered, dense, and sweetly-fruited, this impeccably balanced, large-scaled effort will drink well for another 8 years."

Recommendations: Decant min. 15 to 30 minutes.
Oh yes, yes, yes. I am going to be cellaring this one for a while, I think.
Gifford-Hirlinger Stateline Red.
We tasted this one, then a 100% Merlot and a 100% Cabernet Sauvignon. This is a blend of the two and, believe me, the best. These two grapes bring out the best in each other like an old married couple or best friends. From their website:
The Wine

The Stateline Red is a simple blend of 50% Merlot and 50% Cabernet Sauvignon. This wine is a very food-friendly, versatile wine with enough structure to pair with a steak, but also fruit forward enough to pair with seafood dishes!
Case Production:
* 418

Varietal Composition:
* 50% Merlot
* 50% Cabernet Sauvignon

Barrel Aging:
* 17 Months

Oak Program:
* 100% Neutral Oak
And that's it! I am really excited to be tasting these lovely Washington wines.