One meh, one yeah!
First, the meh: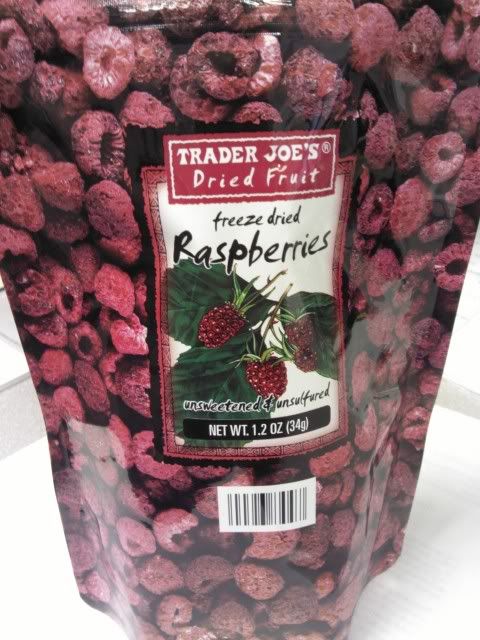 Freeze Dried Raspberries.
They are very, very tart. They also are very seedy. Honestly, even though the bag is one serving and I was kind of snacking on them all afternoon at work I couldn't finish the bag. Between the extreme tartness (and I usually like tart!) and the excessive seeds there was no way this was a pleasant experience, unfortunately. They are 3 Points Plus for the whole bag.
Now, the yeah:
These fiber bars are kind of like Fiber One's Oats and Chocolate bar only better. Less calories, and actually more chocolate-y. And more peanut butter-y. This was a win-win here. Instead of practically inhaling it like I sometimes want to do with Fiber One bars I savored it. It was really rich and pretty dense so well worth taking my time with it. I actually put it down halfway through eating it. I LOVED it and hope Trader Joe's keeps them around for a long, long time. These bars are 3 Points Plus each and well worth it. (Fiber One Oats & Chocolate is now 4 Points Plus each.)
------
By the way, HI! :D I am cooking a bit more but my kitchen is small and not very maneuverable. I am doing
Weight Watchers
again but for real this time. I'm really interested in reviewing food that's WW friendly. It could be a warning or recommendation to others. And you all know I've got an opinion!
I will do other recipes as well. Tomorrow I'm going to cook a WW recipe that I'm going to modify a bit because while it was good when I first made it I think I have a way to make it KICK BUTT. And life is too short to eat things that don't kick butt!