I made this Weight Watchers recipe a week or so ago and liked it but wanted to figure out how to make it slightly better. Whenever I've had red or green curry in a Thai restaurant it was soupier than the original recipe. I definitely wanted to replicate that as well as add more vegetables. So, I did! Here's the original recipe, courtesy of Weight Watchers:
Ingredients
3/4 pound(s) uncooked boneless, skinless chicken thigh(s), boneless, cut into chunks
1/4 tsp table salt
1 tsp canola oil
1 item(s) (medium) uncooked bell pepper(s), yellow, seeded and thinly sliced
6 medium uncooked scallion(s), cut into 1-inch pieces
2 1/2 tsp thai curry paste, red variety
2 tsp sugar
14 fl oz light coconut milk
12 oz uncooked cauliflower, florets only
6 oz shredded carrot(s)
1/2 cup(s) basil, fresh purple or green leaves
Instructions
Sprinkle the chicken with the salt. Heat 1⁄2 teaspoon of the oil in a large nonstick skillet over medium-high heat. Add the chicken and cook, turning occasionally, until browned and cooked through, about 5 minutes. Transfer the chicken to a plate.
Add the remaining 1⁄2 teaspoon oil to the same skillet, then add the bell pepper and scallions. Cook over medium-high heat, stirring often, until the scallions turn bright green, about 3 minutes. Add the curry paste and sugar; cook, stirring constantly, about 1 minute. Stir in the coconut milk, cauliflower, and carrots; bring to a boil. Reduce the heat and simmer, covered, stirring occasionally, until the vegetables are tender, about 6 minutes.
Return the chicken to the skillet and heat through, stirring occasionally, about 1 minute. Remove the skillet from the heat and stir in the basil. Yields 1 1/2 cups per serving.
OK, on to the photos!
First, get the mise en place set up so when it's go time you don't have to worry about measuring. My additions to the recipe are green beans, bamboo shoots, chicken broth, fish sauce, and I used broccoli slaw this time instead of shredded carrots simply because that's what I had on hand. Also, I used a different color pepper but it was still a sweet one. Finally, I omitted the table salt.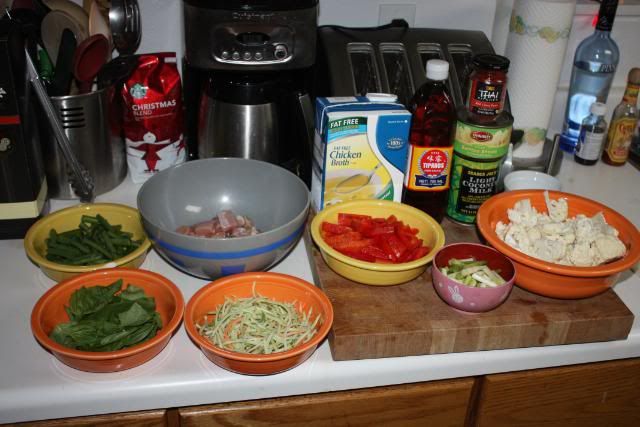 After setting all of that up, I figured I earned a drink. What? It was Saturday night!
Go time. Sauté the chicken thighs.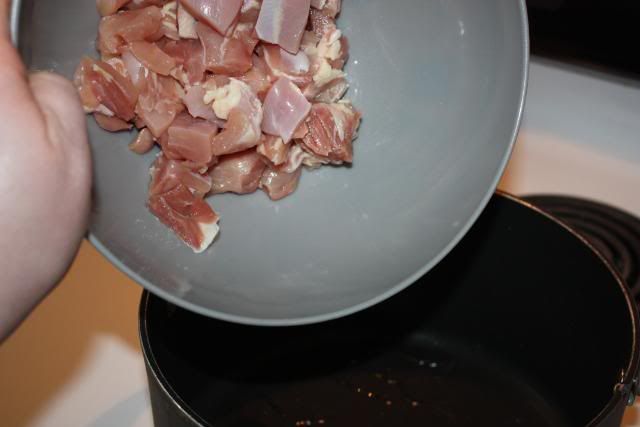 After they're sautéed, let them hang out for a bit.
Sauté the peppers, green beans, and onions.
After a few minutes add red curry paste according to your taste. I used two of these dollops but probably could have used one more.
Gimme some sugar!
Stir constantly for about a minute and then add the liquids: light coconut milk, 3/4 c. chicken broth, and a tablespoon of fish sauce.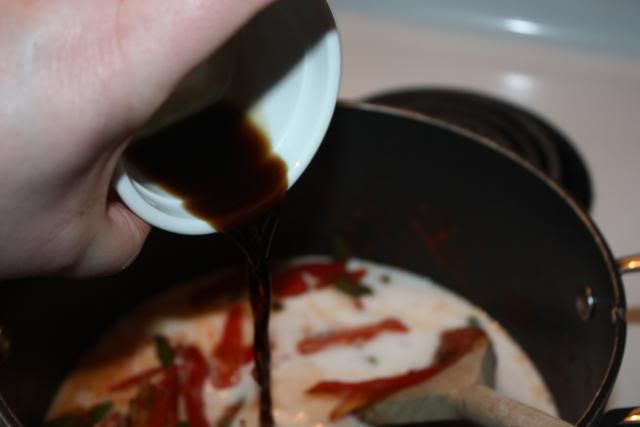 Let it come to a boil then add the cauliflower, broccoli slaw, and can of bamboo shoots.
The smell at this point is utterly amazing.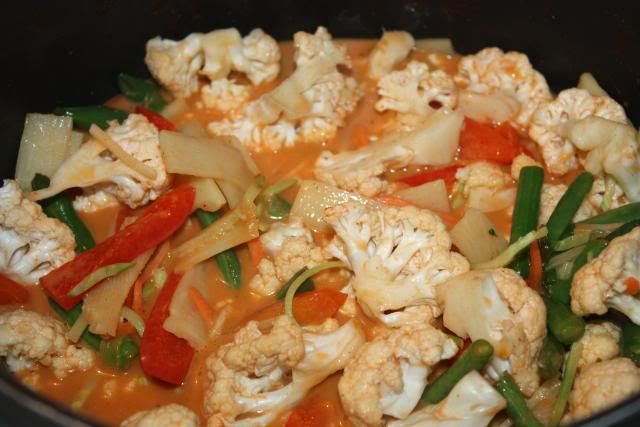 Put a
bird
lid on it and let it simmer for about 5 or so minutes, until the vegetables are softened.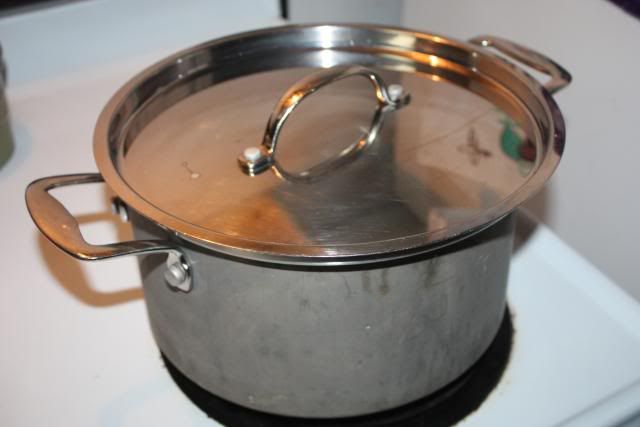 Finally, add the chicken and stir in the basil.
Now ... eat! 1 1/2 cups is a great portion. I added 3/4 cup of brown rice and it was so filling and delicious. This scratches the Thai food itch that I get quite frequently and I love that I can eat Thai food without guilt!