I think I have perfected my white chili recipe. You can use cooked turkey or chicken in this recipe. I opted for turkey as I made one yesterday and we had leftover meat. The taste is so delicious and, apparently, gravity really likes this as well as the floor claimed two bowls and the counter tried to get its share as well! Oops! At least it makes a fair amount so it still fed the family.
Ingredients:
1 tsp olive oil
1 onion, chopped
2 tsp minced garlic
2 15.5 ounce cans cannellini beans, rinsed and drained
3 cups cooked chicken or turkey, cubed
1 14.5 ounce can diced tomatoes, with juice
1 4 ounce can diced green chiles, undrained
1 14.5 ounce can fat-free chicken broth
3/4 can of water
1 tsp chili powder
1 tsp oregano
1/2 tsp ground cumin
1 tsp salt
1/2 tsp white pepper
1 cup (4 ounces) shredded lowfat Monterey Jack cheese
In a dutch oven or stock pot, heat the olive oil over medium heat. Once it is hot, add the onions and the garlic.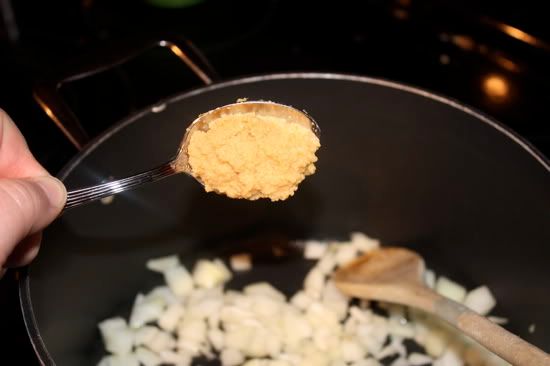 Stir the onions and garlic frequently, until softened. This will take about 5 minutes. Next, add the can of green chiles.
Stir in the spices.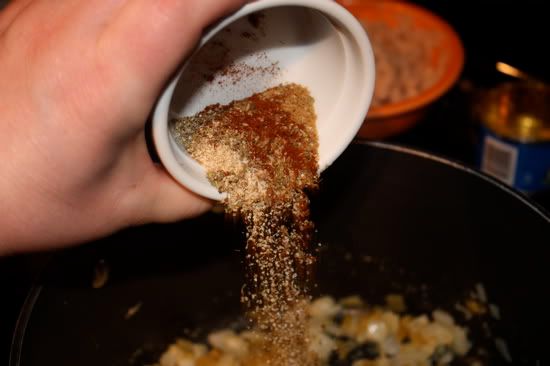 Stir the mixture until everything is coated and softened, about 2 minutes.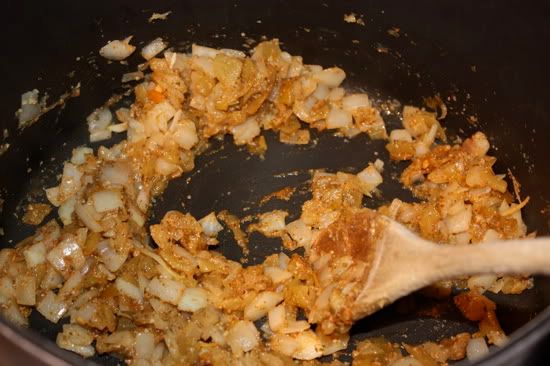 Add the chopped turkey (or chicken).
Next, add the chicken broth.
Bring the tomatoes to the party!
To extend the recipe a bit I add about 3/4 of a can of water.
Add the rinsed and drained beans.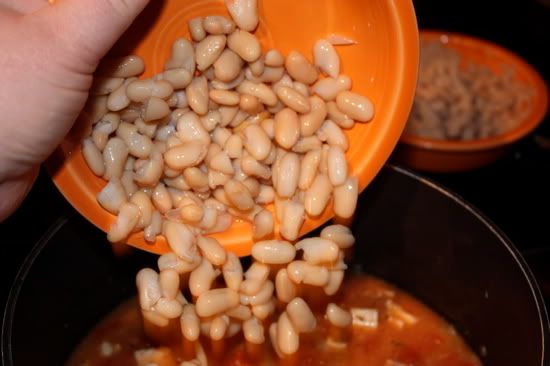 Finally, add the mashed beans.
Stir everything together and bring to a boil.
Let the chili simmer for about 15 minutes, stirring occasionally. After the time is up, add 4 ounces of reduced fat Monterey Jack cheese. Add it a few handfuls at a time, stirring while you add it so it doesn't clump all together.
Serve. You can garnish with sour cream and green onions like I did here. You can also put crumbled chips, cilantro, more Jack cheese, jalapeños, or, well, just about anything you'd like on top of this chili.
This was so delicious and easy, especially for a weeknight meal. The kids all loved it, even the preschooler!