Since it was snowing today (we have about a foot and a half!) I needed some comfort food. I chose
The Pioneer Woman's Lasagna.
This is such a seriously good recipe. No, it's not authentic. It doesn't matter; it tastes good.
You can go to her website (link above) for a detailed list of ingredients and instructions.
First, start with spicy sausage and ground beef. Brown it in a pan.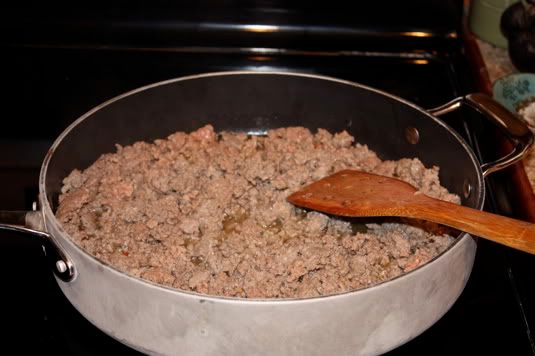 Add two cloves of garlic. I used the jarred kind. I took the lazy way out. But, you know, you couldn't tell the difference (at least not in this recipe).
There is a lot of fat in this so you'll want to spoon it off.
It's time to add the tomatoes. I use one big can of tomatoes vs. the two smaller cans as called for TPW.
It's starting to look really good!
Add the two cans of tomato paste.
Next add the herbs. Two tablespoons each of parsley and basil.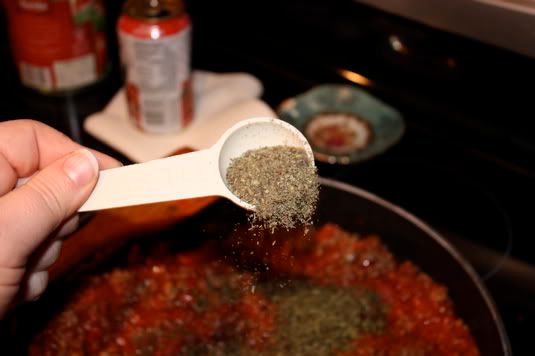 The smells are already driving the kids insane. Mr. Mary Cooks makes a snack for them.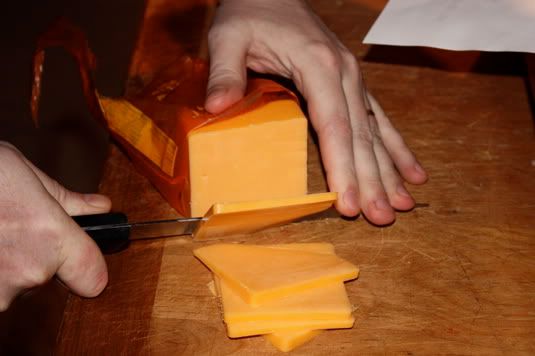 Okay, let the sauce simmer for about 45 minutes on medium-low. Stir it occasionally.
Meanwhile, get the cottage cheese mixture ready. Three cups of lowfat cottage cheese go into the bowl.
Add 1/2 cup of parmesan from a can. I KNOW. That doesn't mean it's not delicious.
Two eggs are to be added to the mixture.
Add a couple tablespoons of parsley.
Mix together until it is all incorporated.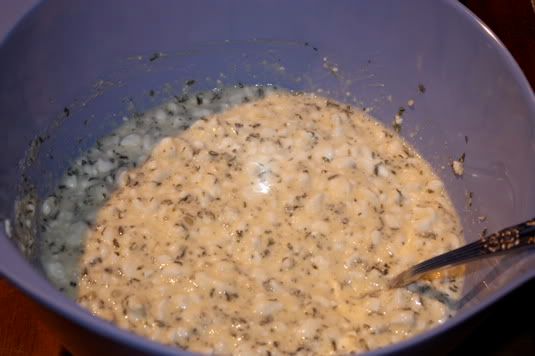 Great! Now it is time for assembly! I am using the no-boil lasagna noodles. Put four down in the pan (I sprayed it with nonstick cooking spray first).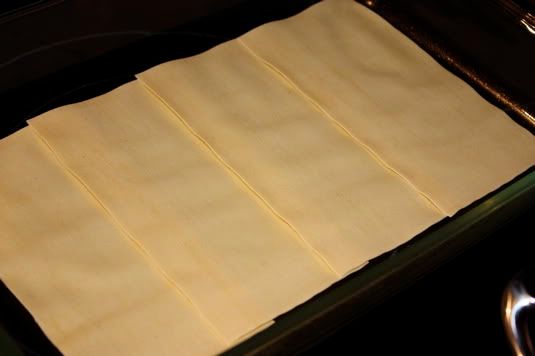 Put half of the cottage cheese mixture on top of the noodles.
8 ounces of mozzarella cheese goes on top of the cottage cheese mixture.
Here is where I diverge a bit from TPW's recipe. I lay one-third of the sauce on top of the cheese instead of one-half.
Then, repeat the layers. I end with one more layer of noodles and the rest of the sauce. (So it is: noodles, cottage cheese, mozzarella, sauce-noodles, cottage cheese, mozzarella, sauce-noodles, sauce.) Sprinkle the top with some more grated parmesan.
Cover with foil, seal tightly, and place in the oven for 30 minutes. Remove the foil and cook for another 20 minutes or until it is bubbling and the cheese is melted.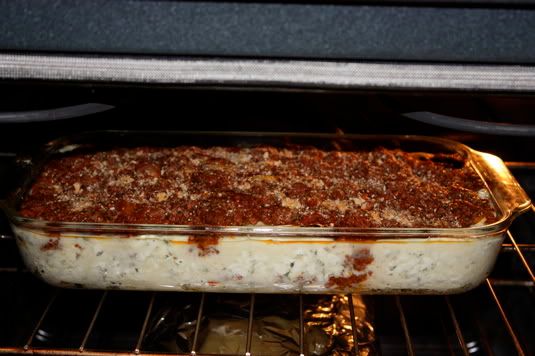 When it comes out, let it rest for about 15 minutes.
I sliced some focaccia bread to go with it and also cooked some broccoli.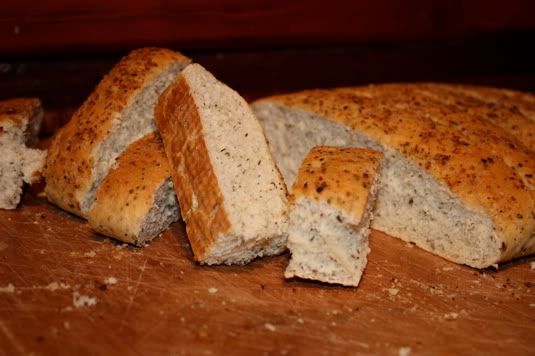 And dinner is served!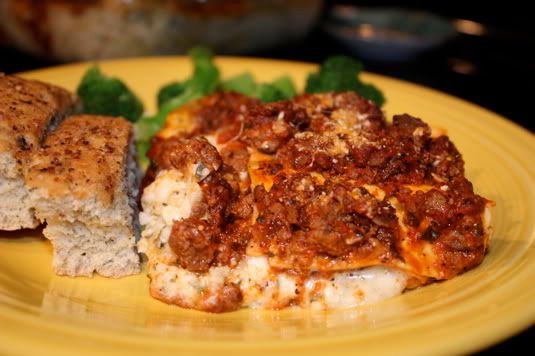 Like I said earlier, this is hardly authentic but it is delicious. Mr. Mary Cooks had two servings. The teenager ate at least four pieces! We only have two pieces left out of the pan. So much for leftovers!