It is snowy here today and I didn't feel like going to the grocery store. It was time to look in my huge freezer for food to cook that wouldn't be too involved nor something that I'd need more ingredients for. I settled on chicken breakfast sausages and bacon. We'd have breakfast for dinner! My kids love it when I cook this.
First, I set the mood for cooking. I lit two candles that I got in my cookie party gift exchange last night. They're lovely!
I proceeded to cook the bacon. It looks so delicious (it was!).
After the bacon, I cooked the sausages. This particular brand of chicken breakfast sausage were not as good as the brand I normally get (Isernio's). But since I got them at a pretty good discount I couldn't complain too much.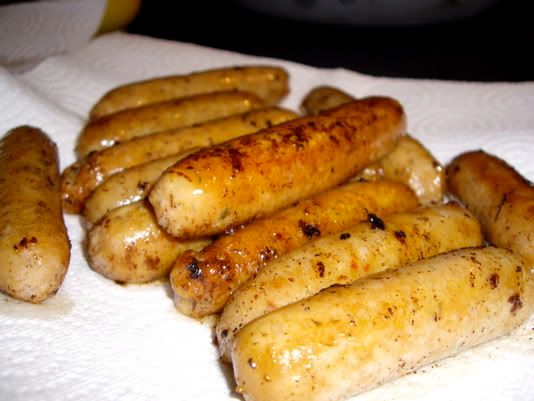 Next, I cooked toast while the eggs were cooking. Eggs! I can't believe I forgot to take a photo of the lovely eggs. Oh well. A lot was going on at that moment.
This is my daughter's plate. Doesn't it look delicious?