Last night we had a great dinner with friends. A lot of this food I picked up from the market but I made some toor daal from a recipe I got from a friend. But first...the market food!
Samosas from the salad bar area of
Central Market.
These were delicious!
Naan from Trader Joe's.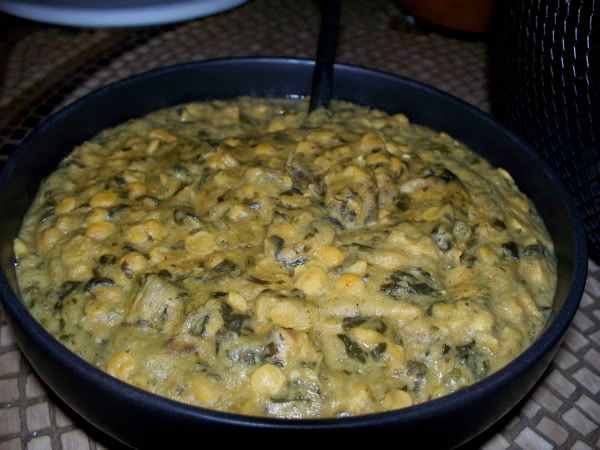 Daal palak, also from Central Market. It was so good and a bit spicy.
And here's the daal I made! It was a hit! It was also health, as the only oil I used was less than a tablespoon. Here is the recipe, as written by my friend Payal:
Need:
Toor Dal (found at Indian grocery stores)
2 1/2 tsp Paprika
3 tsp Cumin-coriander powder
3/4 tsp turmeric
Juice of one lemon (can substitute with lemon juice from store)
7 tsp sugar
green chilli (optional)
a small piece ginger (optional)
salt (according to taste)
Also need separately:
3 tsp vegetable oil
1 tsp black mustard seeds
1 tsp fenugreek seeds
Soak the lentils (toor dal) over night if possible or at least 4 hours. Then boil it until its completely soft or put it into a pressure cooker for 3 whistles. Then add some water and whip it until its blended. Now put the pan on a stove and put the whipped dal in there. Add all the spices up to salt. Once the dal is boiling, in a second small pan, heat up oil. Add black mustard seeds and heat until they sizzle. Add fenugreek seeds and heat some more. Add the mixture to the dal. Stir it up and add more water if needed. Let it boil for 30 minutes or until it reaches a desired consistency. Eat with rice.
I used equal amounts of coriander and cumin. I also could not find black mustard seeds so I used brown. Speaking of spices, a good tip is that if you happen to have a store near you that sells them in bulk it's much cheaper to get them from that section. This is especially true if it's a spice for a recipe that you do not use very often.
Oh, a couple of other amendments I made: I did not use the chili and for the garlic, I had some from a jar (oh, the humanity!) and I put in about a teaspoon. I'm not sure if the consistency I made was correct but it was so delicious. The consistency was a bit like mashed potatoes but it went very well with the rice (brown basmati) and the naan.
I loved making food with friends! It was fantastic.